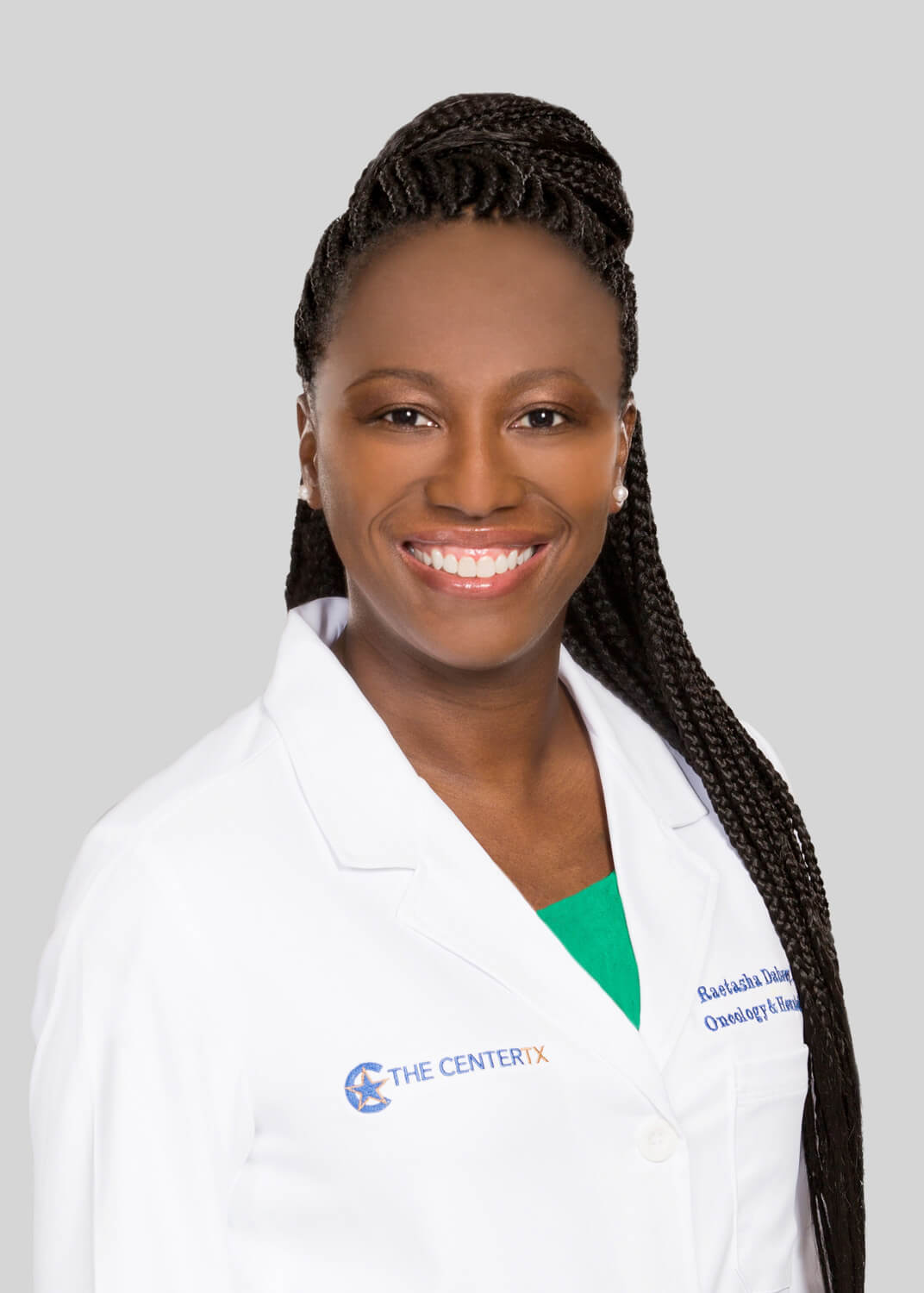 Raetasha Dabney, MD
Alliance, Southlake
"Care cancer is complex. My philosophy in care is to treat the whole person. I focus on the physical, psychological, and spiritual needs of my patients. I believe in multidisciplinary care which allows us to provide the most up to date and comprehensive care. It is my privilege to navigate my patients and their families through this journey. I believe in honesty and open communication from the moment we start our journey together."
Board-certified medical oncology and hematology and board-certified with the American Board of Internal Medicine, Raetasha Dabney, MD, specializes in treating all types of cancer, including breast cancer, colorectal cancer, and lung cancer. She is currently accepting new patients at The Center in Alliance and Southlake, Texas.
Dr. Dabney believes in comprehensive cancer care. Her approach is to treat the whole person as well as their family. Her passion is breast cancer, but she also treats all solid tumors and malignant/benign hematology. She has completed the "City of Hope Clinical Cancer Genomics Community of Practice" course and is offering genetic testing and counseling in the clinic.
A member of the American Society of Clinical Oncology, Dr. Dabney is also a member of the American Society of Hematology and the National Medical Association. She serves on the Clinical Practice Guidelines Committee (CPGC) and Multi-Site Guidelines Committee as well.
Dr. Dabney is a Lieutenant Colonel and Flight Surgeon in the United States Air Force Air National Guard and is proud to serve her country. The time that she has spent in the military has enhanced her leadership and organizational skills. She is dedicated to veterans and their care.
Dr. Dabney was raised in Farmersville, Texas, a small rural town east of McKinney. As a little girl, she was a very active youth committed to making a difference in her community. After 20 years away from the metroplex, she is happy to be back home. She is bringing back more knowledge and wisdom and is ready to pick up where she left off in serving the community.
She is happily married with two beautiful daughters. In her free time, she enjoys reading, sports, and traveling.
Education
Fellowship in Medical Oncology/Hematology
San Antonio Uniformed Services Health Education Consortium, San Antonio, Tx.
Residency in Internal Medicine
Keesler Medical Center, Biloxi, MS
Medical School
University of Texas Medical Branch, Galveston, Tx
Certifications
Board Certified in Hematology, Oncology and the American Board of Internal Medicine
Cancer Treatment Focus
Oncology & Hematology
Office Location
Alliance, Southlake