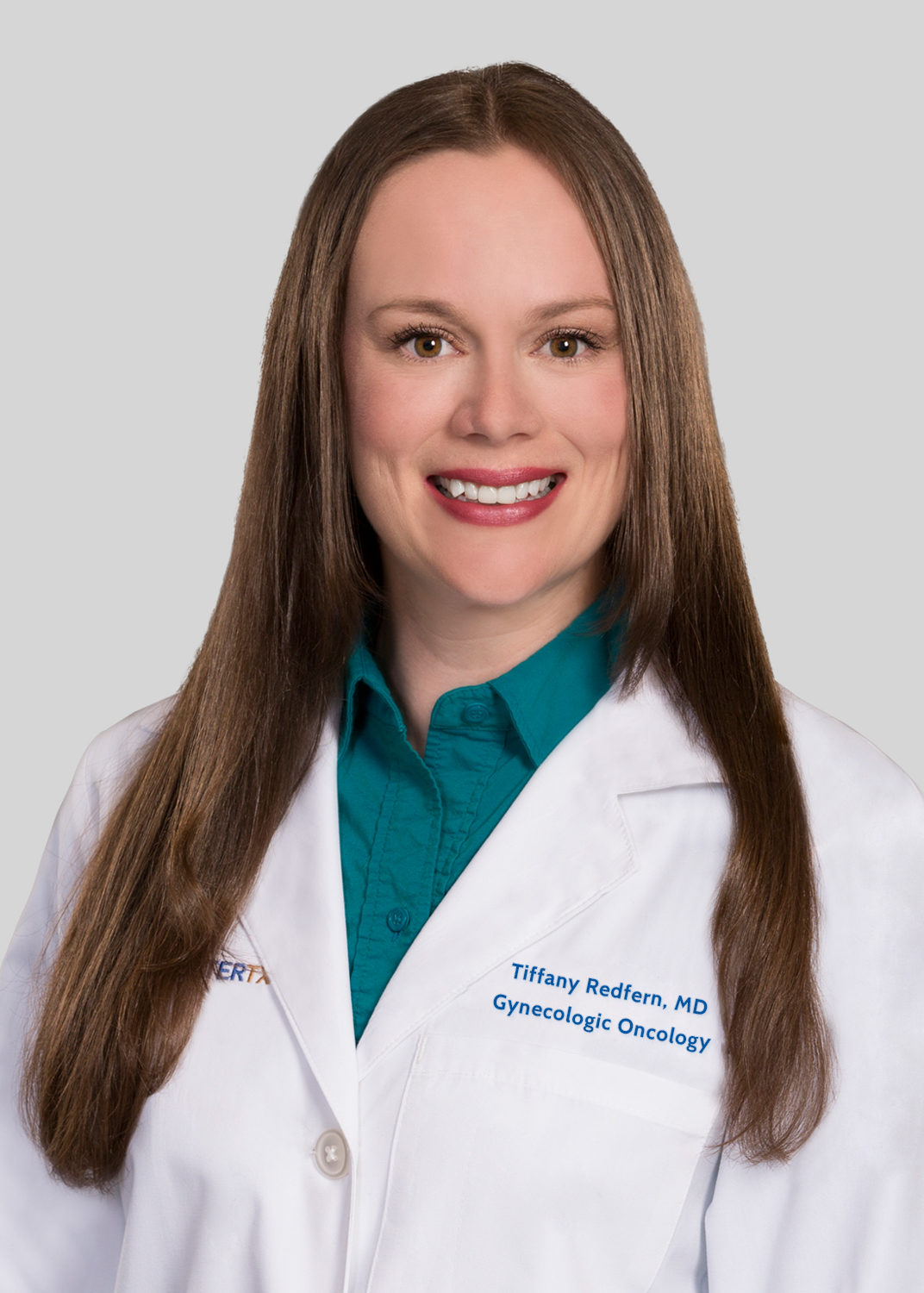 Tiffany Redfern, MD
Fort Worth, Arlington
"The bravery of my patients and the special relationship I get to have with them is what inspired me to become a Gynecologic Oncologist. During the cancer journey, I strive to be a pillar of support, a source of education, a patient advocate, and an excellent provider of care. I will provide my patients the latest therapy options and we will formulate a personalized treatment plan together as a team."
Tiffany Redfern, M.D. is dedicated to providing comprehensive cancer treatment to patients in Fort Worth and Arlington. In her whole-person approach, Dr. Redfern takes her time with each patient and works closely with a team of medical oncologists, radiation oncologists, nurses, dieticians, patient navigators, and other support staff to ensure that each individual receives a customized treatment plan.  This approach provides the best opportunity for a cure while focusing on maintaining the patient's quality of life.
Dr. Redfern earned a Bachelor of Science degree in Biomedical Sciences from Texas A&M University-Kingsville in Kingsville, Texas.  She received her Doctor of Medicine from the University of Texas Medical Branch, Galveston, Texas, where she also completed her OB/GYN residency.  Her Gynecologic Oncology fellowship was completed at the University of Tennessee Health Science Center-West Cancer Center, Memphis, Tennessee. Dr. Redfern is a highly trained specialist with additional medical education in surgery, chemotherapy, and radiation for the treatment of gynecological cancers, including ovarian, endometrial, cervical, vulvar, and vaginal cancers.
Dr. Redfern has been published in several peer-reviewed medical journals and has presented at multiple national meetings.  She is an active member of the American Congress of Obstetricians and Gynecologists, Society of Gynecologic Oncology, American Society for Colposcopy and Cervical Pathology, Tarrant County Medical Society, and the Texas Medical Association.
In her spare time, Dr. Redfern enjoys spending time with her husband and 2 beautiful daughters. Her interests include traveling, SCUBA diving, hiking, flying airplanes, and new adventures!
Education
Gynecologic Oncology Fellowship
University of Tennessee Health Science Center – West Cancer Center

Residency – OB/GYN 
University of Texas Medical Branch
Medical Degree
University of Texas Medical Branch
Bachelor of Science degree in Biomedical Sciences
Texas A&M University – Kingsville
Certifications
Board Eligible in Gynecologic Oncology by the American Board of Obstetrics and Gynecology
Cancer Treatment Focus
Surgery, Gynecologic Oncology
Office Location
Fort Worth, Arlington