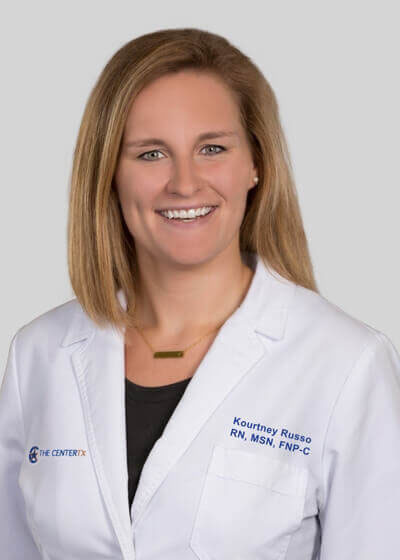 Kourtney Russo, APRN, FNP-BC
"I chose to work in Oncology because I grew up around The Center and saw what a difference the providers made in a patient's immediate life.  It is a lifelong relationship between provider and patient, which is truly unlike any other healthcare field."
Kourtney Russo earned her Bachelor of Science in Nursing at Texas Tech Health Sciences Center School of Nursing, Lubbock, TX.   She earned her Master of Science in Nursing at The University of Texas at Arlington School of Nursing, Arlington, TX.  She worked as a nurse on the hematology/oncology/bone marrow transplant floor Baylor University Medical Center, Dallas, TX after nursing school.  Kourtney also worked at The Center as an infusion nurse and at Texas Health Harris as an inpatient nurse in the oncology unit.
She is a member of the Pain Oversite Committee at Texas Health Harris. She is also a member of the Oncology Nursing Society, Fort Worth Region Nurse Practitioners, ENP Network.  Kourtney received the Service Excellence Award from Baylor University Medical Center.  Kourtney is a volunteer at Birds of a Feather Cancer Support Group and the American Cancer Society. She also was the Campus Director for Relay for Life while at Texas Tech.
Ms. Russo is a native Texan, born at Texas Health Harris.  Kourtney is active in CrossFit, paddle boarding, kayaking and skiing.  She enjoys spending time with her family and two dogs, Olaf and Sven.
Education
Master's: The University of Texas at Arlington School of Nursing – Nursing
Bachelor's: Texas Tech Health Sciences Center School of Nursing – Nursing
Certifications
Board Certified AANP
Cancer Treatment Focus
Medical Oncology