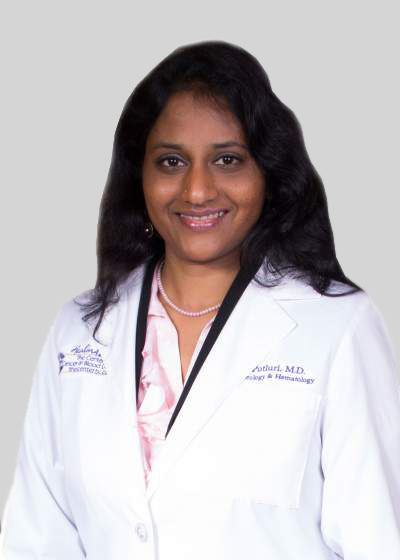 Vinaya Potluri, MD
Burleson, Fort Worth - Southwest
"My approach to cancer treatment includes the latest medical advances. I also work with patients on issues like pain, fatigue, psychological issues, and nutrition. I believe in coordinating with other doctors, chaplains, social workers, psychiatrists or counselors, dieticians, and physical therapists—all as needed by each individual patient. Healing occurs on many different levels."
Vinaya Potluri, MD brings her patients the benefit of years of experience with a special focus on reducing the difficulty of dealing with serious disease. In addition to special training in palliative care, she offers the most up-to-date and aggressive cancer treatment including chemotherapy, radiation therapy, immunotherapy, hormonal therapy, and biological therapy. She has a special interest in breast cancer treatment. Dr. Potluri believes in a team approach, bringing a wide range of medical and other professionals into a patient's care for the best overall result.
Dr. Potluri's background includes a distinguished medical education. She completed a segment of her internship at Staten Island University Hospital, New York, followed by a year of research at Cornell University Medical College, New York. She continued her advanced training with a three-year residency at Wayne State University/Health Center in Detroit, Michigan. This was followed by a fellowship in palliative care at MD Anderson Cancer Center in Houston, TX. Dr. Potluri also completed a fellowship in medical oncology and hematology at Louisiana State University in Shreveport, Louisiana, finishing her last year as chief fellow.
Dr. Potluri and her husband live in Fort Worth with their two children.
Education
Residency
Wayne State University / Health Center
Fellowship
Palliative care, M. D. Anderson Cancer Center
Medical oncology and hematology, Louisiana State University
Certifications
Board Certified in Medical Oncology, American Board of Internal Medicine
Board Certified in Hematology, American Board of Internal Medicine
Board Certified in Hospice and Palliative Medicine, American Board of Hospice and Palliative Medicine
Cancer Treatment Focus
Cancer treatment, palliative care for cancer patients, Medical Oncology, & Hematology
Office Location
Burleson, Fort Worth - Southwest