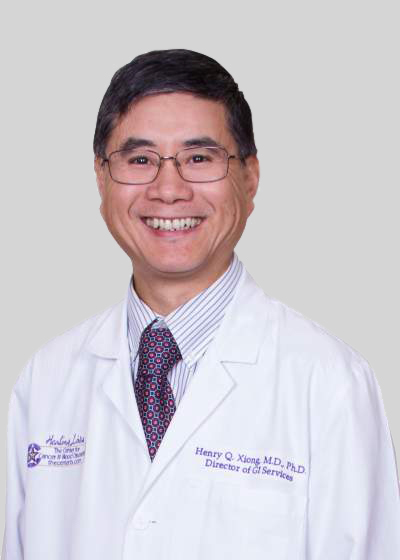 Henry Q. Xiong, MD, PhD
Fort Worth - Central Campus
"My concern for patients has always gone well beyond the medical options. I understand and care about feelings and hopes. I welcome questions. We have tremendous resources here at The Center for Cancer and Blood Disorders."
Before joining The Center, Dr. Henry Xiong led research efforts and patient care as a member of the faculty at MD Anderson Hospital in Houston, one of the largest and most prestigious cancer institutions in the world. His work included treatment for esophageal cancer, stomach cancer, colon cancer, liver cancer, and pancreatic cancer. Dr. Xiong served as principal investigator for more than a dozen clinical trials and published more than 50 manuscripts in scientific journals.
After completing a three-year fellowship at MD Anderson Cancer Center, Dr. Xiong completed a three- year internship and residency at Beth Israel Medical Center in New York. In addition, he obtained a Ph.D. in biomedical sciences from Mt. Sinai School of Medicine in New York.
Dr. Xiong was recently chosen for the prestigious national committee on gastrointestinal education through the American Society of Clinical Oncology (ASCO).  He will supervise research and education content for the national meeting and other gastrointestinal meetings during his three-year term. This is the leading organization representing physicians who care for people with cancer. With nearly 35,000 members, ASCO is committed to improving cancer care through scientific meetings, educational programs, and peer-reviewed journals.
Dr. Xiong has also been honored as a Top Doctor by Fort Worth, Texas magazine and as a Health Care Hero by the Fort Worth Business Press.
Education
Fellowship
MD  Anderson Cancer Center
Residency
Beth Israel Medical Center
Medical School
Biomedical Sciences, Mt. Sinai School of Medicine
Certifications
Board Certified in Medical Oncology by the American Board of Internal Medicine Board Certified in Hematology
Cancer Treatment Focus
Colon cancer treatment, pancreatic cancer treatment, esophageal cancer treatment, stomach cancer treatment, liver cancer treatment, rectal cancer treatment, carcinoid treatment, Medical Oncology, & Hematology
Office Location
Fort Worth - Central Campus