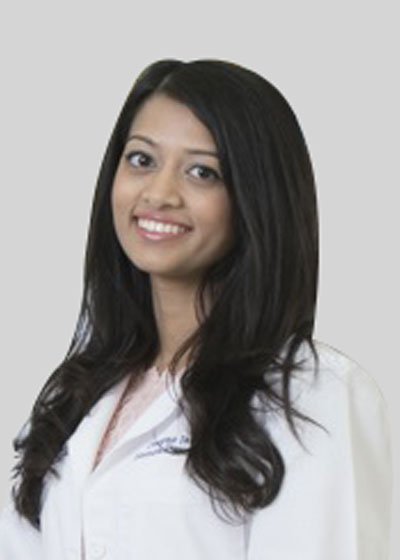 Deepna D. Jaiswal, DO
Plano, Las Colinas
"I treat each patient how I would want my family treated. You want the best care possible from someone you trust. Together, we will formulate the most up-to-date and innovative treatment personalized for your disease"
Deepna Jaiswal, DO is a medical oncologist and hematologist who has special training in diagnosing and treating cancer with chemotherapy, targeted therapy, immune therapy, and clinical trials. Dr. Jaiswal treats all types of cancers including breast cancer, lung cancer, gastrointestinal cancer, and benign hematology.
She spends time with each patient, developing a personalized treatment plan specific to each individual person. In addition to this personalized approach, Dr. Jaiswal also works closely with The Center's outstanding team of cancer specialists, nurses, dieticians, patient navigators, and other support staff to provide the greatest all-encompassing treatment options to each patient.
Dr. Jaiswal is a native North Texan, growing up in Texas and Oklahoma.  She attended Austin College, in Sherman Texas, with an undergraduate degree in psychology.  She earned her medical degree at Oklahoma State University College of Osteopathic Medicine. Dr. Jaiswal completed her postgraduate training in internal medicine at the University of Oklahoma. During this time, she was honored with the Award of Excellence in Research. She returned to Texas to complete a fellowship in medical oncology and hematology at Baylor Scott & White Medical Center.
Dr. Jaiswal has presented research papers at national and international meetings, and her work has been published in peer-reviewed journals including JAMA, Mayo Clinic Proceedings, and the Journal of Clinical Oncology. She continues to serve as a clinical instructor at the Oklahoma State University College of Osteopathic Medicine. She is an active member of the American Society of Clinical Oncology, the American Society of Hematology, the Texas Medical Association, and the Tarrant County Medical Society.  Dr. Jaiswal speaks frequently to community groups about the importance of prevention and early detection of cancer.
Outside of her medical practice, Dr. Jaiswal enjoys yoga, traveling, painting, and being a mom.
Certifications
Board Certified in Internal Medicine, Oncology, and Hematology Board Certified in Medical Oncology and Hematology by the American Board of Internal Medicine
Office Location
Plano, Las Colinas