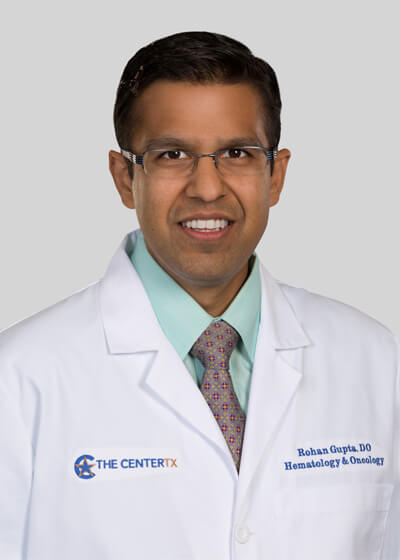 Rohan Gupta, DO
Fort Worth - Central Campus / Burleson
"I believe true healing comes by the nourishment of the mind, the body, and the soul.  Cancer is a disease that not only affects the patient but also his or her family and friends. When I meet with you, together you and I will make a multidisciplinary plan that will incorporate your individual needs, treatment goals, cultural and religious preferences. In the new era of 'omics' of medicine, I keep focus on precision medicine in regards to cancer prevention, early detection, and treatment intervention. I believe prompt evaluation, excellent communication and building long term relationships with my patients, their families and referring physicians are the keys to providing exceptional patient care. I see this as an opportunity that is both humbling and a privilege, and I look forward to caring for you and yours"
Rohan Gupta, DO is dedicated to providing comprehensive medical oncology treatment to his patients. He has a special interest in solid tumors, multiple myeloma, lymphomas, and leukemia. In his whole-person approach, Dr. Gupta takes time with each patient and works closely with a team of radiation oncologists, surgeons, nurses, dieticians, patient navigators, and other support staff to ensure that each individual receives a customized treatment plan. He will utilize the latest anti-cancer agents, including chemotherapies, immunotherapy, targeted therapy and clinical trials which allows him to create up to date treatment plans that focus on each patient's personalized needs and nurture their recovery.
Dr. Gupta earned his bachelor's degree in Human Biology at the University of Texas in Austin, Texas. He then received his medical training at the University of North Texas Health Science Center, Texas College of Osteopathic Medicine, Ft. Worth, Texas. Following medical school, he completed his internship and residency in Internal Medicine at The University of Texas at Houston. He then went on to pursue his post-doctoral hematology and oncology fellowship at the UCLA Harbor and City of Hope National Medical Center in Duarte, California where he served as a Chief Fellow.
While at the MD Anderson and the City of Hope Dr. Gupta was constantly engaged in improvement of cancer treatment. He has successfully published his research work in several journals including Journal of Clinical Oncology, American Journal of Clinical Oncology and The Oncologist. He has given several presentations at national and international cancer meetings such as American Society of Clinical Oncology, American Society of Hematology and European Society of Medical Oncology in lung cancer, colon cancer, and hematologic malignancies.  Dr. Gupta also received the prestigious ASH award for his work in Myeloproliferative neoplasms.
Dr. Gupta is happy to be back home in North Texas, and look forward to helping provide its community members with exceptional care. He lives with his wife and daughter in Irving and loves the area. In his free time, he likes to play cricket, spend time with family, travel and is committed to weekly volunteer services locally.
Education
Post-Doctoral Hematology and Oncology Fellowship (Chief Fellow)
UCLA Harbor and City of Hope National Medical Center
Internship and Residency
The University of Texas at Houston
Medical School
the University of North Texas Health Science Center, Texas College of Osteopathic Medicine
Bachelor's Degree
B.S. in Human Biology, University of Texas
Certifications
Board Certified in Internal Medicine Board Certified in Medical Oncology and Hematology Radiation Oncology and Medical Oncology by the American Board of Internal Medicine
Cancer Treatment Focus
Solid tumors, multiple myeloma, advanced lymphomas and leukemia
Office Location
Fort Worth - Central Campus / Burleson