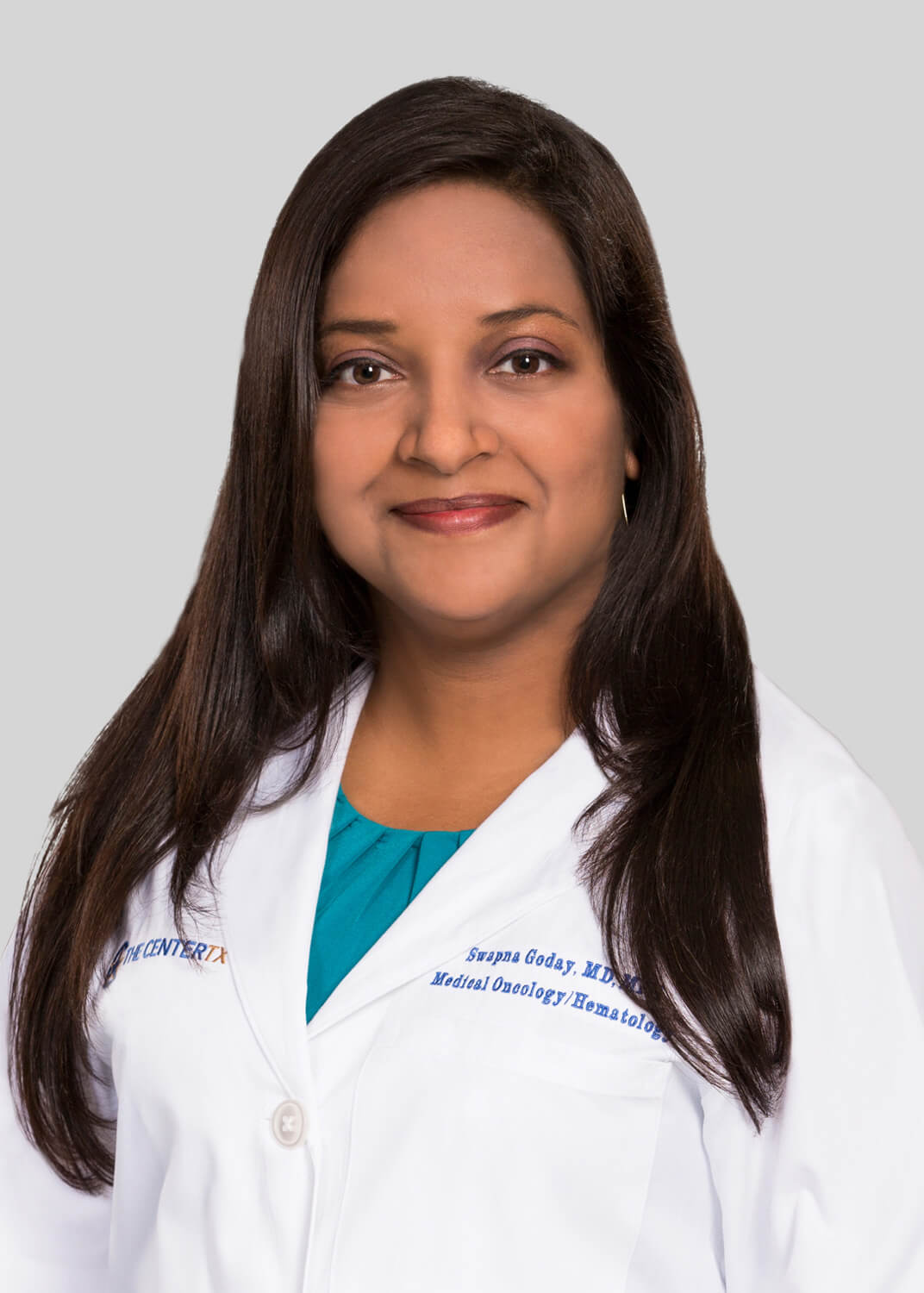 Swapna Goday, MD, MPH
Southlake
"Cancer diagnosis can be overwhelming. I am committed to helping my patients make informed decisions during this journey and treating the patient with the highest level of care. I want to be with my patients every step of the way and It is a privilege to be chosen as their physician during this difficult time."
Board-certified in medical oncology and hematology and board-certified with the American Board of Internal Medicine, Swapna Goday, MD, MPH, specializes in treating solid tumors, hemostasis, thrombosis, and malignant hematology. She is currently accepting new patients at The Center location in Southlake, Texas.
Dr. Goday has a passion for patients with breast cancer and also treats all other solid tumors, bleeding and clotting disorders, and malignant hematology. Having served as the medical director for an anti-coagulation clinic, she also developed a special interest in benign hematology. Dr. Goday has participated in multiple clinical trials at the national level and is a member of the American College of Physicians, the American Society of Hematology, the American Society of Clinical Oncology, and the Texas Medical Association.
Dr. Goday is extremely happy to be a part of The Center team and believes in the multidisciplinary approach that the team provides. She provides compassionate care for the patients and their families during the most difficult times and helps them navigate the best treatment possible. Communication with patients and their families and involving them in the decision-making process helps her tailor the best treatment approach for their diagnosis. Dr. Goday collaborates closely with patients and their referring physicians when coordinating care and corresponds with them directly on her cell phone.
Outside of work, Dr. Goday loves to spend time with her husband and two sons who keep her very busy. She also enjoys traveling, running, baking, and volunteering for community activities. Dr. Goday is fluent in English, Hindi, and Telugu.
Education
Residency in Internal Medicine and Fellowship in Hematology and Medical Oncology
Western Pennsylvania Hospital /Allegheny General Hospital – Pittsburgh, PA
Medical School
Osmania Medical College, India
Certifications
Board Certified in Hematology, Oncology and the American Board of Internal Medicine
Cancer Treatment Focus
Oncology & Hematology
Office Location
Southlake