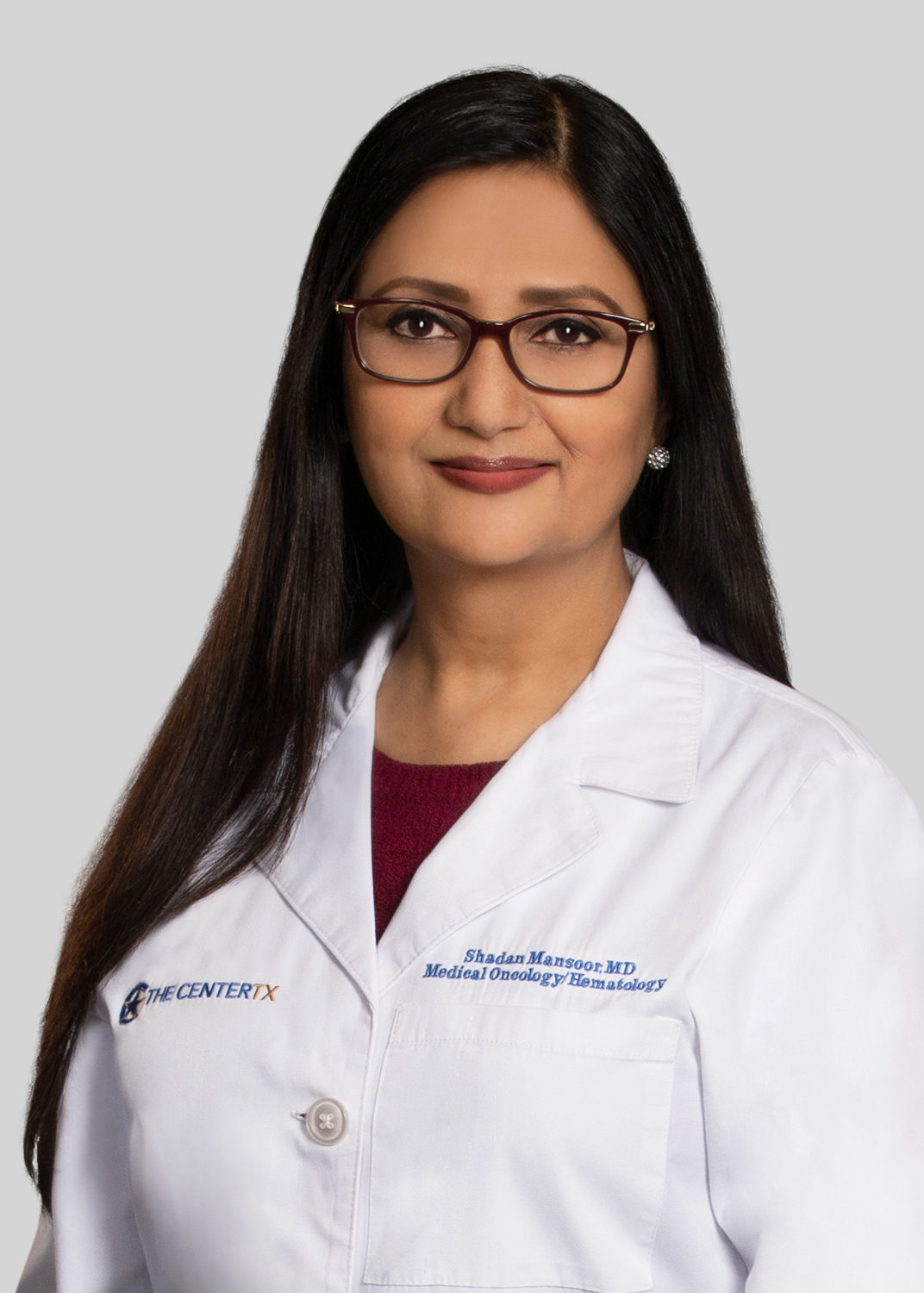 Shadan Mansoor, MD
Burleson
"I know that cancer is a life-changing experience. It is my goal to provide the best and most up-to-date medical treatment to all my patients. Along with treating the body, I believe that caring for the patient, spiritually and emotionally, is just as important. My father, who was also a physician, taught me the value of compassion, of listening, and of understanding.  His example inspires me as I help patients."
Shadan Mansoor, MD, brings more than a decade of experience in cancer treatment to patients in the Burleson area.  She is a medical oncologist and hematologist, specializing in both cancer treatment and blood diseases.  She has a special interest in breast cancer treatment.  In addition to her medical practice, Dr. Mansoor speaks at community and civic events about cancer prevention and treatment. For these activities, she was named a Hometown Hero in Johnson County by the Careity Foundation.
Before joining The Center for Cancer and Blood Disorders, she served as Assistant Program Director for the Department of Hematology/Oncology at St. Elizabeth's Medical Center, affiliated with Tufts University in Boston. Prior to taking this position, Dr. Mansoor also spent three years as a hematologist/oncologist in Littleton, New Hampshire, a small community in the foothills of the White Mountains.
Dr. Mansoor completed a three year residency at Boston University, followed by a three year fellowship at St. Elizabeth's Medical Center (Tuft's University School of Medicine) in Boston, Massachusetts. A portion of her internship was completed at Boston VA Medical Center.
Dr. Mansoor resides in Southlake with her husband and three children. They enjoy family outings to parks and the movies. In addition to listening to music, Dr. Mansoor relaxes by painting and gardening with her daughter.
Education
Residency
Boston University
Fellowship
St. Elizabeth's Medical Center (Tufts University School of Medicine)
Certifications
Board Certified in Medical oncology, hematology and internal medicine, American Board of Internal Medicine
Cancer Treatment Focus
Cancer treatment, breast cancer treatment