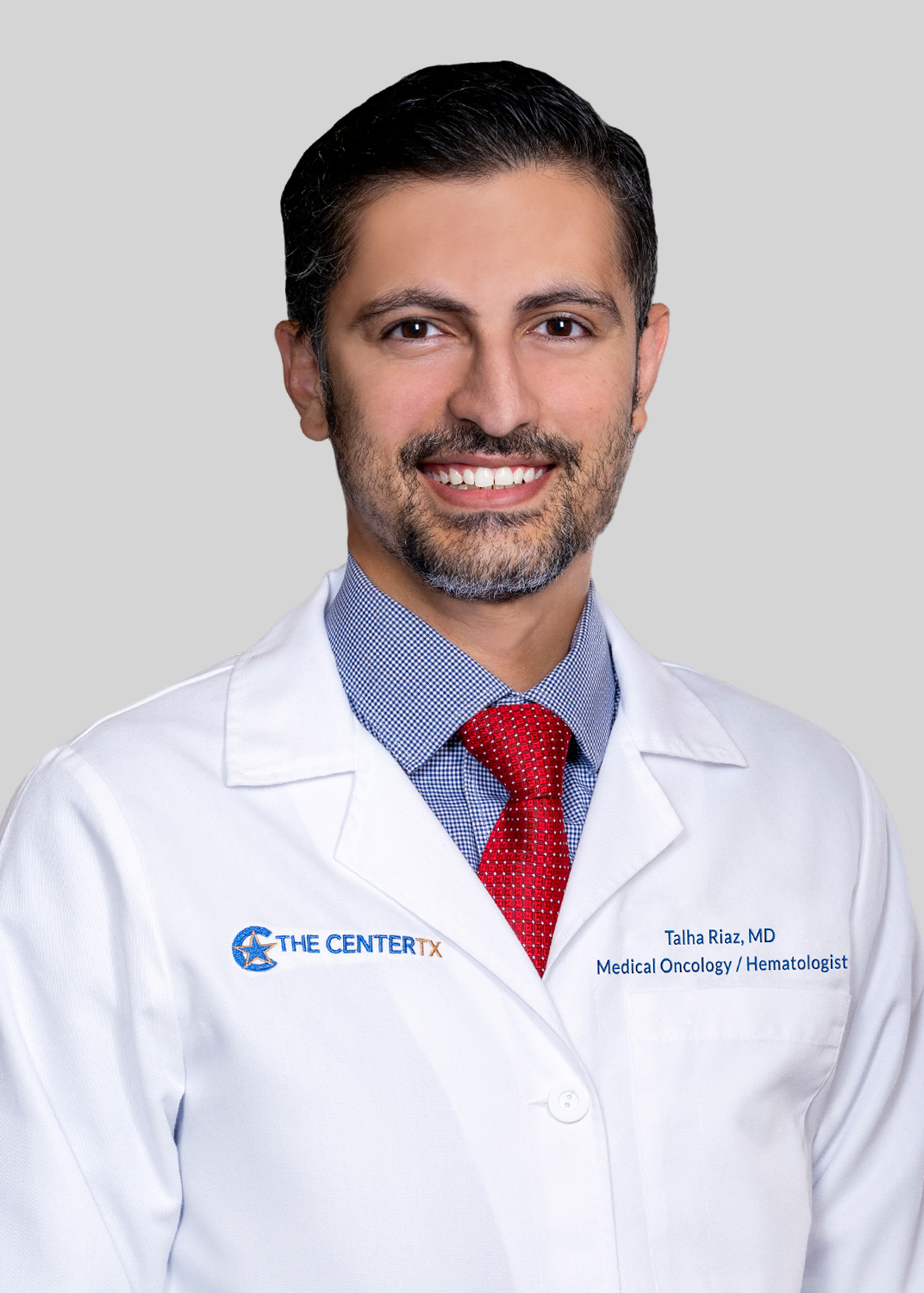 Talha Riaz, MD
Weatherford, Texas / Mineral Wells, Texas
"The diagnosis of cancer not only affects the patient on an individual basis, but also deeply impacts the lives of many around that person, including family and friends. Having experienced this dynamic from the other side of the table while caring for loved ones having to deal with this menace, I make it my life's biggest goal to work as a team in order to care for my patients and their loved ones. My untiring and relentless desire to make a positive difference in my patients' lives is what drives me to be proactive in my profession on a daily basis. I am my patients' number one advocate and make sure to provide them with the latest and state-of-the-art treatments at my disposal here at The Center in order to provide them with the best chance at beating cancer. The thing that I tell my patients most often is: We are in this TOGETHER!"
Talha Riaz, MD is dedicated to providing Medical Oncology and Hematology treatments to his patients. He focuses on solid tumors and, benign and malignant hematology. Dr. Riaz takes time with each patient and works closely with a team of medical oncologists, radiation oncologists, surgeons, nurses, dieticians, patient navigators, and other support staff to ensure that each individual receives a customized treatment plan. He will utilize the latest anti-cancer agents, including chemotherapy, immunotherapy, gene targeted therapy and clinical trials which allows him to create up-to-date treatment plans that focus on each patient's personalized needs and nurture their recovery.
Dr. Riaz went to Medical School at Dow Medical College in Karachi, Pakistan. He completed his Internal Medicine Internship at Civil Hospital Karachi, Pakistan. Given his passion for higher level of training and to ultimately pursue a career in Medical Oncology/Hematology, he decided to come to the United States in 2012. Dr. Riaz completed his residency training at BronxCare Health Systems at Mount Sinai, Bronx, New York. Dr. Riaz completed his Fellowship training in Hematology and Medical Oncology at the University of Missouri, Columbia Missouri, where he also served as Chief Fellow. Dr. Riaz has multiple publication in both national and international peer reviewed Medical Journals including PLoS One, BMC Gastroenterology, Thrombosis Journal, etc.
Dr. Riaz is a member of the American Medical Association, the American Society of Hematology, and the American Society of Medical Oncology. He is a member of the Pakistan Medical and Dental Council. He was served as Vice President of the Drug Bank at "Patients' Welfare Association" in Pakistan.
Dr. Riaz is excited to be in North Texas where he will be close to his family, and looks forward to helping and providing its community members with exceptional care. Dr. Riaz and his wife Dr. Bismah Siddiqui are parents to one daughter and are thrilled to be starting their new chapter in life in Fort Worth, TX. In his spare time, Dr. Riaz loves to travel with family and friends, enjoys music and is also a huge soccer fan (Fan of Liverpool FC).
Education
Fellowship in Hematology and Medical Oncology
University of Missouri
Residency
BronxCare Health Systems at Mount Sinai
Internship
Civil Hospital Karachi, Pakistan
Medical School
Doctor of Medicine, Dow Medical College
Certifications
Board Certified in Internal Medicine Board Certified in Medical Oncology and Hematology
Cancer Treatment Focus
Medical Oncology, Hematology
Office Location
Weatherford, Texas / Mineral Wells, Texas