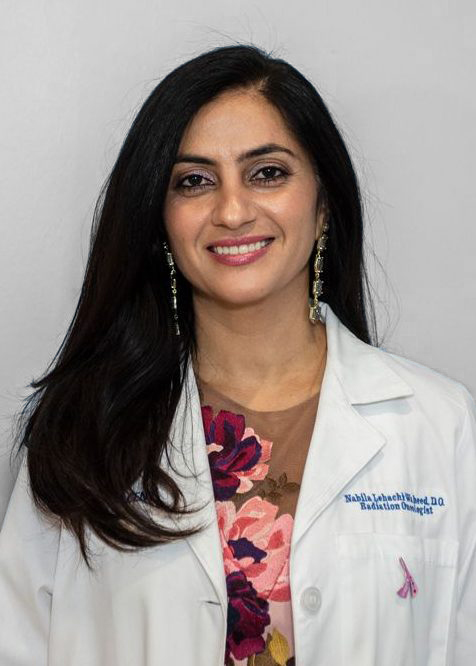 Nabila Lehachi Waheed, DO
Fort Worth - Central Campus / Burleson
"My original interest in the field of radiation oncology stems from my desire to always wanting to make a difference in the lives of cancer patients. I am committed to superb patient care by using the latest and most sophisticated and efficacious radiation treatment approaches while providing my patients a healing experience.  I was fortunate to contribute to several research projects related to prostate, GYN and breast radiotherapy during my training that could eventually have a tangible impact on patient care.
The most important thing I can offer my patients is connecting with them and earning their trust along the way; a beautiful process that is aligned with my values and nature. As I recall the events that led me towards a career in oncology, I remember a quote from one of my mentors that states "there is something about cancer, in all of its tragedy that brings out the best in people."
Nabila Waheed, DO is dedicated to providing comprehensive radiation treatment to her patients. In her whole-person approach, Dr. Waheed takes her time with each patient and works closely with a team of medical oncologists, surgeons, nurses, dieticians, patient navigators, and other support staff to ensure that each
individual receives a customized treatment plan.  This approach provides the best opportunity for a cure while focusing on maintaining the patient's quality of life.
Dr. Waheed earned a Bachelor of Science Degree in Chemistry from Syracuse University in New York, and she earned her Doctor of Osteopathic Medicine from Rocky Vista University, Parker Colorado. Dr. Waheed completed an internship in General Surgery at the University of Texas Health Science Center San Antonio and she completed her residency in Radiation Oncology at Baylor College of Medicine Houston, Texas.
Dr. Waheed is trained in the use of Intensity Modulated Radiation Therapy (IMRT) and Image Guided Radiation Therapy (IGRT/IG-IMRT), Volumetric Modulated Arc Therapy (VMAT), Stereotactic Radiosurgery (SRS) and Stereotactic Body Radiation Therapy (SBRT, SABR) using CyberKnife/Novalis/Trilogy/Elekta systems, Brachytherapy Intracavitary LDR and HDR as well as Interstitial brachytherapy and Proton Therapy.  She is also trained in unsealed sources treatment such as I-131 radioactive thyroid ablation and other IV radiopharmaceuticals. In addition she is experienced in Electronic Brachytherapy for treatment of skin malignancies using XOFT platform.
Dr. Waheed has been published in several medical journals and oncology publications both nationally and internationally.  She is a member of the Texas Medical Association and the American Society for Radiation Oncology (ASTRO).
Dr. Waheed is a long term DFW resident, and currently lives in Southlake with her husband and two boys. She loves cooking, has won multiple chili cook-offs, and enjoys traveling, exploring new cultures and cuisines.
Education
Residency in Radiation Oncology
Baylor College of Medicine in Houston, Texas.
Internship in General Surgery
University of Texas Health Science Center in San Antonio, Texas
Doctor of Osteopathic Medicine
Rocky Vista University in Parker, Colorado.
Bachelor of Science Degree in Chemistry
Syracuse University in Syracuse, New York
Certifications
Board Certified in Radiation Oncology in American Board of Radiology
Cancer Treatment Focus
Cancer treatment, Radiation
Office Location
Fort Worth - Central Campus / Burleson