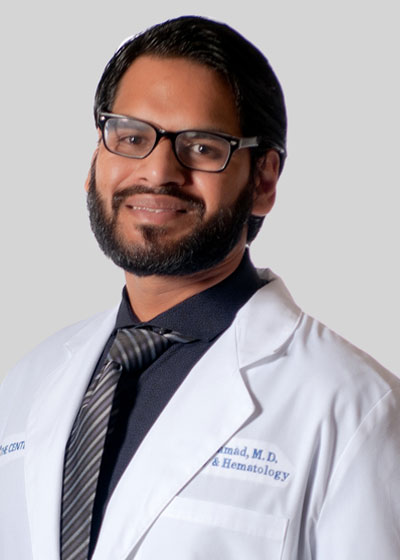 Asim Ahmad, MD
Fort Worth - Central Campus
"The diagnosis of a malignancy can be one of the most challenging times for a person, both physiologically and psychologically.  This is why I emphasize a holistic approach that not only aims to provide the most recent and cutting edge medical therapy, but also one that stresses the emotional well-being of my patients and their caregivers. I strongly believe in a multidisciplinary approach that utilizes the tremendous resources available here at The Center for Cancer and Blood Disorders to ensure my patients have the best quality of life possible. Finally, I want to highlight my commitment to treating my patients as individuals and not just by their diagnosis. It is my great privilege to work with you and your loved ones while we navigate through this difficult time together."
Asim Ahmad, MD is dedicated to providing comprehensive cancer treatment to patients in Arlington. In his whole-person approach, Dr. Ahmad takes his time with each patient and works closely with a team of surgeons, radiation oncologists, nurses, dieticians, patient navigators, and other support staff to ensure that each individual receives a customized treatment plan. This approach provides the best opportunity for a cure while focusing on maintaining the patient's quality of life.
Dr. Ahmad earned a medical degree from the University of South Florida Morsani College of Medicine in Tampa, Florida. Following medical school, he completed an internship and residency in internal medicine at Mayo Clinic School of Graduate Medical Education. Dr. Ahmad completed a post-doctoral hematology and oncology fellowship at Mount Sinai Health System Icahn School of Medicine at Mount Sinai in New York. He then went on to further enhance his expertise by completing a second fellowship in hematology and oncology from the University of Missouri School of Medicine in Columbia, Missouri where he served as Chief Fellow.
Dr. Ahmad has been published in several medical journals and oncology publications both nationally and internationally. He is an active member of the Missouri Oncology Society, American Society of Hematology, American Society of Clinical Oncology, American Medical Association and American College of Physicians.
In addition to his work, Dr. Ahmad is passionate about giving back to the community. Throughout his career he has donated his time and clinical expertise treating patients at various free health clinics. He is also a founding member of a humanitarian group that works to feed the homeless in Miami where he personally delivered to the needy. The goal of this group was twofold: to highlight the suffering of people in one of the wealthiest areas in America, and also to humanize the less fortunate. He is also an avid sports fan and follows the Orlando Magic, Miami Hurricanes, and the Dallas Cowboys.
Education
Fellowships
Oncology & Hematology
University of Missouri School of Medicine – Chief Fellow
Icahn School of Medicine at Mount Sinai
Internship and Residency
Mayo Clinic School of Graduate Medical Education
Medical School
South Florida Morsani College of Medicine
Certifications
Board Certified in Internal Medicine, Oncology, and Hematology
Board Certified in Hematology & Medical Oncology by the American Board of Internal Medicine
Cancer Treatment Focus
Oncology & Hematology
Office Location
Fort Worth - Central Campus