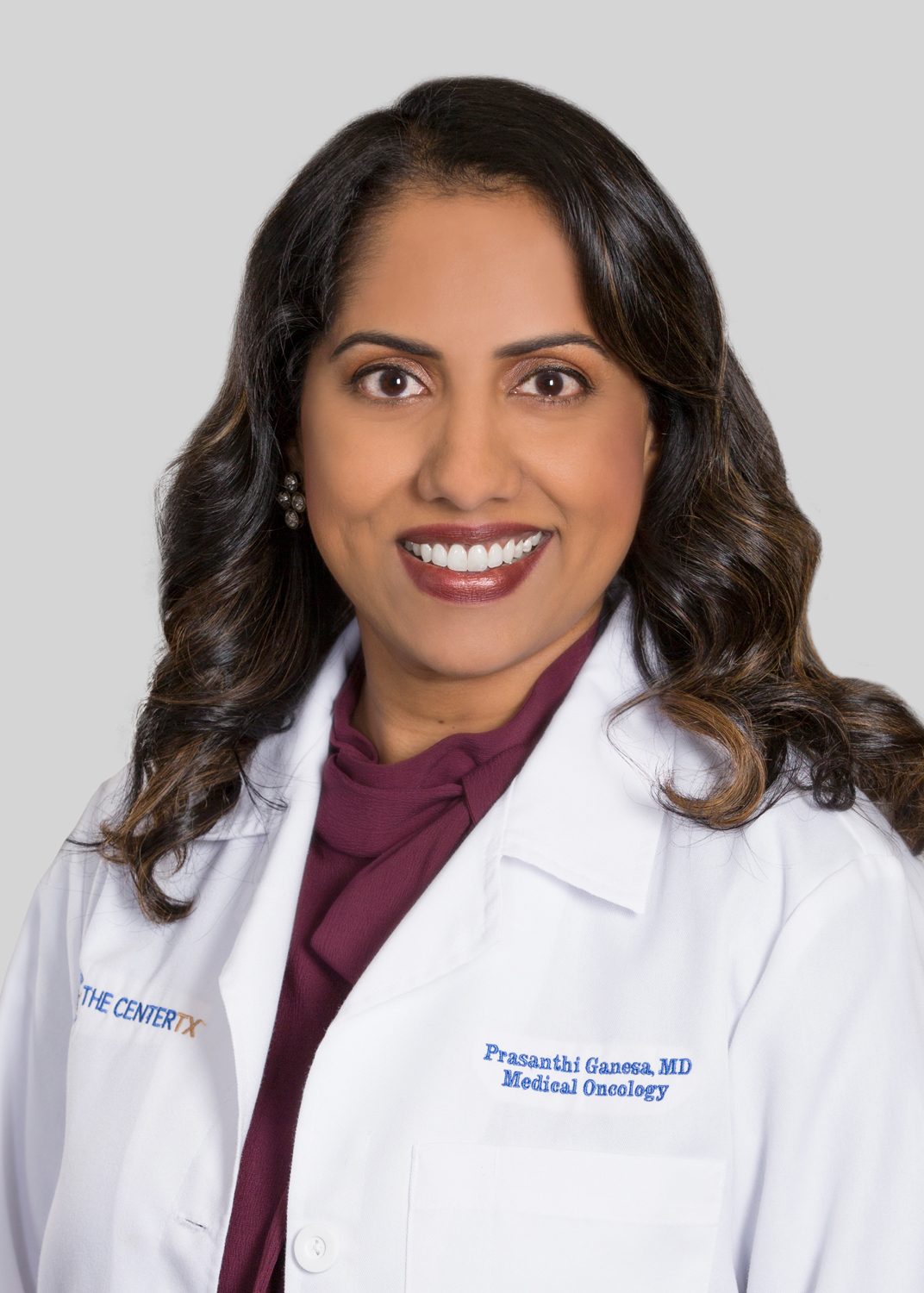 Prasanthi Ganesa, MD
Fort Worth - Central Campus
"It is easy to get lost in the confusion of cancer care. I strive to not only provide my patients with the latest treatment options, but also to help them make the best choice for their next step in treatment. When this is done in a compassionate and loving environment, healing of the body, mind and spirit can take place."
Prasanthi Ganesa, MD, offers her patients the most up-to-date and aggressive options for fighting cancer including chemotherapy, radiation therapy, immunotherapy, hormonal therapy, and biological therapy.  Dr. Ganesa believes in working closely with cancer surgeons, radiation oncologists, and other medical professionals to provide a team approach, assuring each patient an opportunity for a cure and the highest quality of life.
A cancer navigator works with Dr. Ganesa to help guide patients and family members to cancer resources.
Dr. Ganesa completed her undergraduate studies at Texas A&M University in College Station, Texas.  She continued in the Aggie tradition with medical school at Texas A&M University System Health Science Center College of Medicine.   Dr. Ganesa completed her internship, residency, and fellowship in medical oncology at Baylor University Medical Center in Dallas, Texas.
Dr. Ganesa has been honored as a Top Doctor by Fort Worth magazine.  She serves on several boards and hospital committees.  She often speaks to corporate, community, and charity groups about prevention, early detection, and treatment of all types of cancer and specifically, breast cancer.
Outside of her medical practice, Dr. Ganesa has a passion for dance.  She is a student of Kuchipudi Kalakshetra, an Indian classical dance school, and performs several times a year locally. She lives in the Fort Worth area with her two sons.
Education
Fellowship
Medical Oncology, Baylor University Medical Center
Residency
Internal Medicine, Baylor University Medical Center
Medical School
Doctor of Medicine, Texas A&M University Health Science Center College of Medicine
Bachelor's Degree
Bachelor of Science, Texas A&M University
Certifications
Board Certified in Medical Oncology, American Board of Internal Medicine
Cancer Treatment Focus
Cancer treatment, Medical Oncology, & Hematology
Office Location
Fort Worth - Central Campus