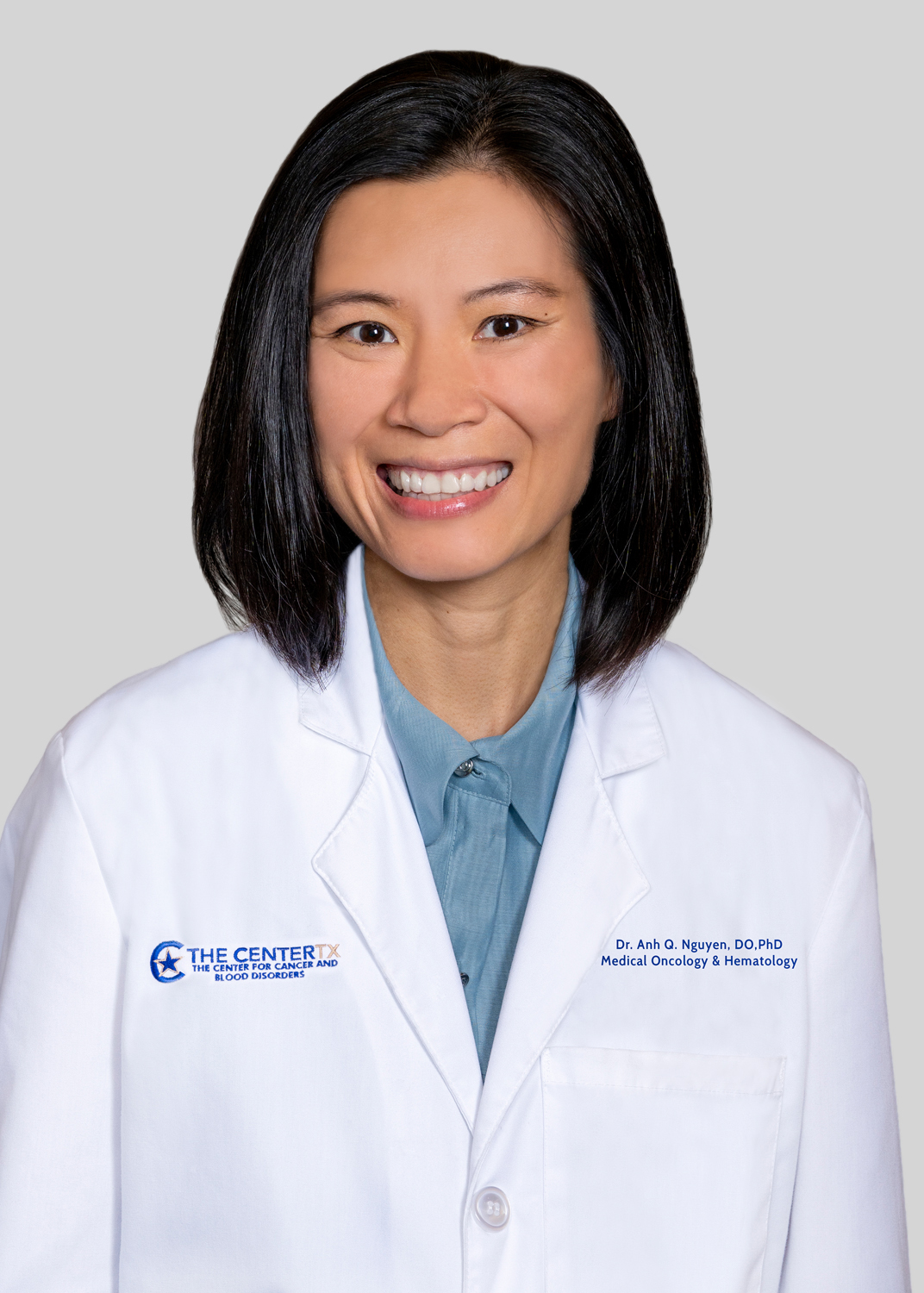 Anh Nguyen, DO, PhD
Arlington, TX
"I am deeply grateful to have the opportunity to serve Dallas-Fort Worth community.  Whether it is to continue to work, to be able to play sport, to spend quality time with loved ones, to travel, to feel well, I will listen to and will work with you and your family through this journey."
Dr. Nguyen is passionate about clinical research to advance cancer treatment and to improve quality of life. She has published in peer-reviewed journals and presented her research at many national scientific conferences. With backgrounds in both research and leadership, she is a patient advocate and thrives to bring the most efficient, scientifically-proven, and innovative care to all her patients.
Dr. Nguyen received her Undergraduate and Master of Science Degree at Texas Christian University. She then graduated from the physician-scientist program at the University of North Texas Health Science Center – Texas College of Osteopathic Medicine, earning dual degrees DO/PhD. Dr. Nguyen completed internal medicine residency at The University of Texas- Medical Branch, where she also served as a chief resident. She then pursued her fellowship in Hematology/Medical Oncology at Louisiana State University- New Orleans, where she was also a chief fellow.
Outside of medicine, she enjoys board games, cooking, reading, and travel to National Parks with her family.
Education
Fellowship
Hematology/Medical Oncology at Louisiana State University
Residency
The University of Texas- Medical Branch
Medical Degree
University of North Texas Health Science Center – Texas College of Osteopathic Medicine, earning dual degrees DO/PhD
Undergraduate and Master of Science Degree
Texas Christian University
Certifications
Fluent in Vietnamese | Thông thạo tiếng Việt
Office Location
Arlington, TX