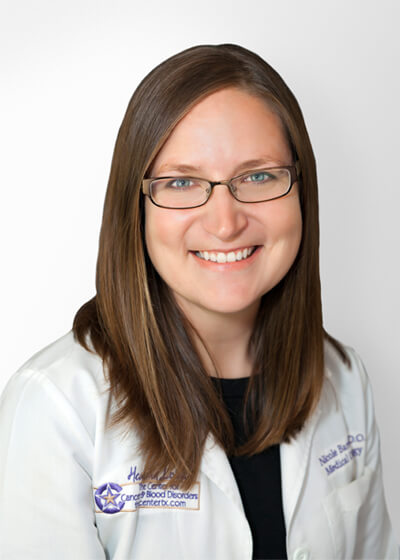 Nicole Bartosh, DO, MS
Granbury, Stephenville, Weatherford
Nicole Bartosh, DO, MS, offers cancer treatment to patients in Weatherford, Granbury and Stephenville. Her individualized approach provides each patient with the best opportunity for a cure and the highest quality of life. Dr. Bartosh strongly believes in a team approach, working with surgeons, radiation oncologists, nurses, dietitians, patient navigators, to ensure that each patient receives a customized treatment plan, while focusing on maintaining a quality of life.
Dr. Bartosh completed a fellowship in medical oncology and a residency in internal medicine at Texas A & M University Scott and White Memorial Hospital in Temple, Texas. She earned a Master of Biomedical Science in clinical research at the University of North Texas Health Science Center, where she closely worked with breast cancer patients at The Center, evaluating a potential new treatment option for the management of hot flashes. She then went on to obtain a Doctorate of Osteopathic Medicine at The University of North Texas Health Science Center in Fort Worth, Texas. Her undergraduate studies in biology were completed at Texas A & M University in College Station, Texas. She maintains board certification in both medical oncology and internal medicine.
Cancer research continues to be a major focus for Dr. Bartosh, and she integrates clinical trials into her treatment plans to provide her patients with the most up to date treatment options. She has presented her research at both national and local meetings, has written numerous research papers, and has been published in peer-reviewed journals. She also has an interest in survivorship and community education and speaks frequently to community groups about cancer prevention and detection.
Dr. Bartosh lives in Fort Worth with her husband and sons. In her free time, she enjoys traveling with her family, scuba diving, and attending her son's sporting events.
Education
Fellowship
Medical Oncology, Texas A&M University Scott and White Memorial Hospital
Residency
Internal Medicine, Texas A&M University Scott and White Memorial Hospital
Medical School
Doctor of Osteopathic Medicine, University of North Texas Health Science Center
Master's Degree
Master of Biomedical Science, University of North Texas Health Science Center
Bachelor's Degree
Bachelor of Science in Biology, Texas A&M University
Certifications
Board Certified in Medical Oncology, American Board of Internal Medicine Board Certified in Medical Oncology, American Board of Medical Specialties Board Certified in Hematology
Cancer Treatment Focus
Cancer treatment, cancer research, medical oncology, hematology
Office Location
Granbury, Stephenville, Weatherford