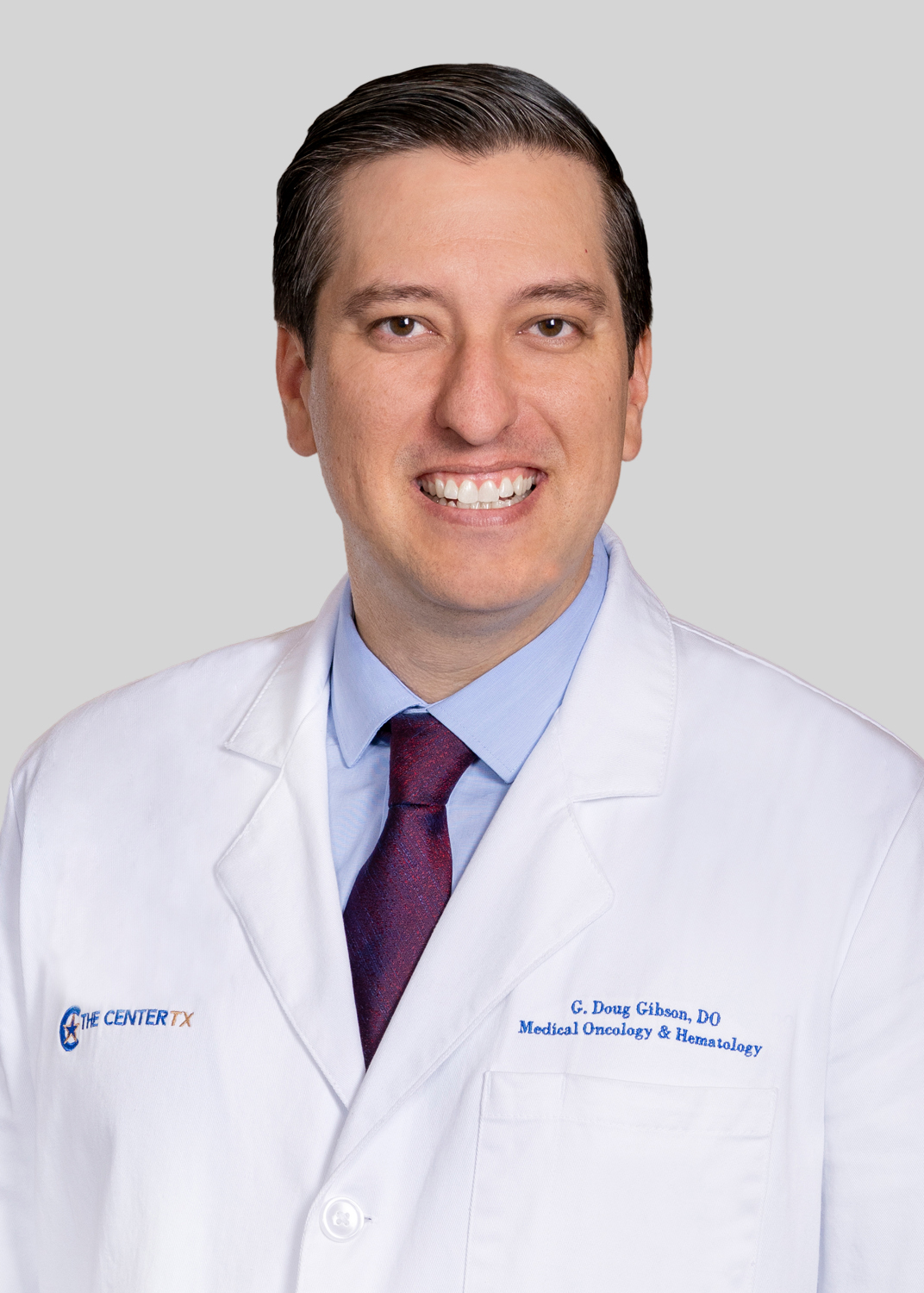 Doug Gibson, DO
Denton South, Alliance
"The diagnosis of cancer is one of the most challenging periods for patients and families, both emotionally and physically. Good communication is vital to building a trusting relationship and I hope to provide my patients with a clear understanding of their diagnosis and treatments to make the best individualize decisions. I aim to provide evidence-based treatments in an honest and supportive environment. I am a strong proponent of quality of life and dedicated to helping patients navigate through treatments in the most comforting way possible."
Doug Gibson, DO is a medical oncologist and hematologist experienced in the use of chemotherapy, immunotherapy, targeted/molecular treatments, and clinical trials to treat solid tumors, malignant hematology, and benign hematology. He believes in a team approach working closely with surgeons, radiation oncologists, dieticians, patient navigators, and nurses to offer patients the highest level of care and maximizing outcomes. He recognizes the importance of understanding what each patient hopes to achieve through their individualized treatment and ensures that their values, priorities, and goals are respected.
Dr. Gibson is a native North Texan. He completed his undergraduate and graduate studies at Texas Tech University in Lubbock, Texas. He attended medical school at the University of North Texas Health Science Center in Fort Worth, Texas. Following medical school, he completed a residency in internal medicine, a fellowship in palliative care medicine and a fellowship in hematology/oncology from the University of Mississippi Medical Center in Jackson, Mississippi. He is an active member in American Society of Oncology (ASCO), the American Society of Hematology (ASH) and American College of Physicians (ACP).
Dr. Gibson is excited to back close to his family and looks forward to being able to serve the community members with exceptional care. Outside of work, he loves spending time with his wife, son and two dogs. He enjoys playing golf and passionate about watching his favorite Dallas sports teams the Stars, Mavs, and Cowboys.
Education
Fellowship
University of Mississippi Medical Center
Residency
University of Mississippi Medical Center
Doctor of Medicine
University of North Texas Health Science Center
Bachelors/Masters
Texas Tech University
Cancer Treatment Focus
Medical Oncology
Office Location
Denton South, Alliance