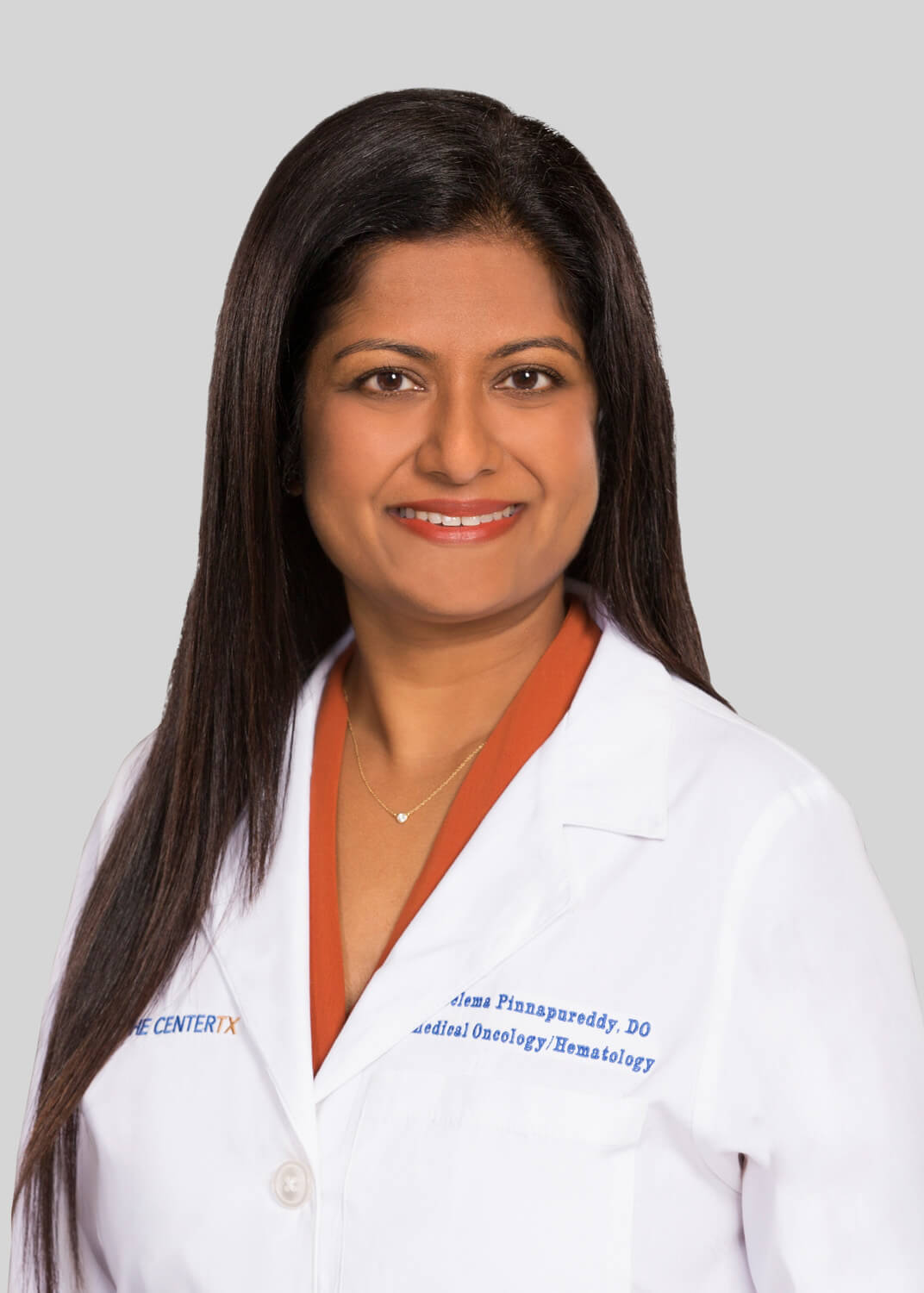 Neelema Pinnapureddy, DO
Las Colinas, Mansfield
"I went into medicine because I was inspired by my grandfather, a physician in India, who provided care to the underserved and treated them with dignity and respect. I believe in treating every patient as I would my own family member. I formulate a plan that treats not only the disease, but takes into account each patient that has their own needs. I will provide the best compassionate care for all patients and am honored to be trusted as their physician."
Board-certified in internal medicine and medical oncology, Neelema Pinnapureddy, DO, specializes in treating all types of cancer, including breast cancer, kidney cancer, ovarian cancer, and prostate cancer. She is currently accepting patients at The Center's locations in Plano and Las Colinas, Texas.
Dr. Pinnapureddy is dedicated to providing compassionate and quality patient care. Her greatest inspiration is her grandfather, who was also a physician. Dr. Pinnapureddy loves how she can help patients and their families during such a difficult time. A huge driving force for why she chose oncology as her specialty is because patients become like family to her.
She understands that communication between each patient and their team of physicians is key in managing oncology. She works diligently to deliver the highest level of care, maintaining continuity and consistency throughout each patient's journey. Dr. Pinnapureddy is fluent in English and Telugu.
Dr. Pinnapureddy earned her medical degree from Lake Erie College of Osteopathic Medicine in Pennsylvania. She then completed her residency and fellowship at Scott & White Memorial Hospital in Temple, Texas. She is a member of both the American Medical Association and the American Society of Clinical Oncology.
Outside of work, Dr. Pinnapureddy loves reading, spending time with her family, watching sports (specifically the Houston Rockets and Dallas Cowboys), and trying out new recipes!
Education
Residency and Fellowship
Scott & White Memorial Hospital
Medical School
Lake Erie College of Osteopathic Medicine in Pennsylvania
Certifications
Board-certified in internal medicine and medical oncology
Cancer Treatment Focus
Oncology & Hematology
Office Location
Las Colinas, Mansfield