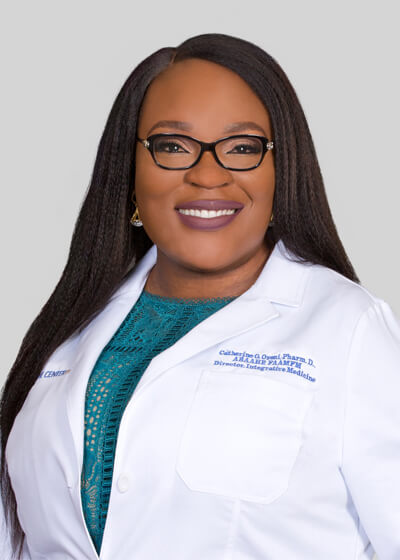 Catherine Oseni, PharmD, ABAAHP, FAAMFM
Fort Worth - Central Campus, TX
Fort Worth's Leading Functional Medicine Expert
Dr. Catherine Oseni is nationally recognized for her contributions to integrative/functional pharmacy and holistic medicine and has practiced pharmacy in varying capacities since 2006. Highly regarded for her expertise in natural medicine, Dr. Oseni is the Director of Integrative Medicine at The Center for Cancer and Blood Disorders in Fort Worth, as well as the Director of Clinical Pharmacy Services and Integrative Medicine at the Lung & Sleep Specialists of North Texas in Weatherford. She is the founding owner of Alpha Care Pharmacy, an integrative compounding pharmacy, as well as Alpha Care Wellness Center, a leading resource of traditional and functional medicine, and natural alternative remedies.
Dr. Oseni was instrumental in the development of the integrative cancer therapy program at The Center for Cancer and Blood Disorders in Fort Worth. In collaboration with other CCBD providers, Dr. Oseni has utilized the best in evidence-based integrative cancer treatments and has proven successful in reducing side effects while increasing adherence to traditional therapies. Her unique integrative approach affords her the ability to encompass both traditional and complementary medicine, thereby offering patients alternative therapies that are safe and effective.Dr. Oseni remains at the forefront of the latest research and advancements in her field. Each year, she is an active attendant and presenter at several conferences on integrative medicine and continues to publish articles on integrative cancer therapies, drug utilization, sexual health, and general wellness. She is highly sought after for speaking engagements, seminars, and workshops and is also completing a masters program in cardio-metabolic and regenerative medicine.
Dr. Oseni resides in the Fort Worth, Texas area with her husband, who is also an accomplished physician, and three children.
Areas of Expertise & Specialization in Integrative and Functional Medicine:
ADD / ADHD
Bio-Identical Hormone Replacement Therapy
Digestive / Gut Health
Drug-Induced Nutrient Depletion
Energy / Fatigue Therapies
Adrenal Fatigue
Fibromyalgia
Healthy Aging
Hormonal Imbalances
Infertility / Sexual Health
Insomnia / Sleep Therapies
Integrative Cancer Therapies
Metabolic Detoxification
Pain Management Therapies
Weight Management
Certifications & Training:
Board Certified, American Board of Anti-Aging Health Practitioners (ABAAHP)
Certified Compounding Pharmacist
Certified First Line Therapy (FLT) Provider
Certified Bio-Identical Hormone Replacement Therapy Provider
Fellowship in Metabolic and Nutritional Medicine
Dr. Catherine Oseni is affiliated with The Center for Cancer and Blood Disorders in Fort Worth, TX. She is also a member of the American Academy of Anti-Aging Medicine.
Certifications
Board Certified, American Board of Anti-Aging Health Practitioners (ABAAHP)
Certified Compounding Pharmacist
Certified First Line Therapy (FLT) Provider
Certified Bio-Identical Hormone Replacement Therapy Provider
Fellowship in Metabolic and Nutritional Medicine
Cancer Treatment Focus
ADD / ADHD, Bio-Identical Hormone Replacement Therapy, Digestive / Gut Health, Drug-Induced Nutrient Depletion, Energy / Fatigue Therapies, Adrenal Fatigue, Fibromyalgia, Healthy Aging, Hormonal Imbalances, Infertility / Sexual Health, Insomnia / Sleep Therapies, Integrative Cancer Therapies, Metabolic Detoxification, Pain Management Therapies, Weight Management
Office Location
Fort Worth - Central Campus, TX