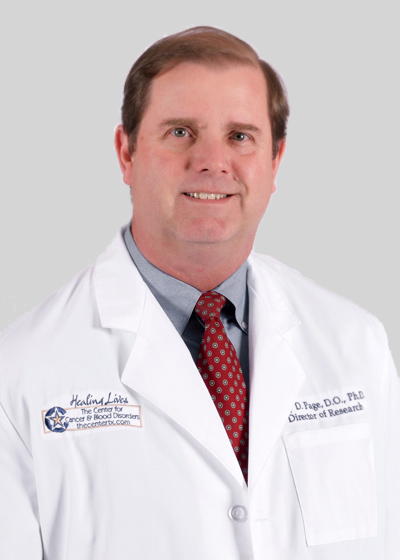 Ray D. Page, DO, PhD, FACOI, FASCO
Weatherford, Texas
"There is nothing more important to me as a physician than your successful cancer treatment. I've been in practice for over two decades and have had the privilege of telling many patients that there is life beyond cancer. As President of The Center for Cancer and Blood Disorders, I want to lead by example, practicing a firm belief that all patients should receive the finest medical care available, with the same concern and compassion as a cherished member of the family."
Dr. Page practices as a medical oncologist and hematologist at The Center for Cancer and Blood Disorders in Fort Worth and in Weatherford where he is a strong advocate for the highest quality of patient care. As President, he and his colleagues have created the most comprehensive community cancer care in the north Texas region, ensuring the patient's journey includes integrated access to all components of the continuum of cancer care.
Dr. Page grew up in Grand Prairie, Texas, and received his Bachelor of Science Degree in Chemistry and Biology from Southwestern University in
1984. He then received a Master's Degree in Physiology at Baylor UniversityGraduate School-Baylor College of Dentistry. He entered the nation's first combined DO /Ph. D. medical scientist program at the University of North Texas Health Science Center (UNTHSC) in Fort Worth and in 1991 received his Ph.D. in Pharmacology along with his Doctorate in Osteopathic Medicine. Dr. Page completed his residency in internal medicine at the
UNTHSC/Osteopathic Medical Center of Texas, and completed a combined oncology/hematology fellowship at the University of Texas M. D. Anderson Cancer Center, where he served as Chief Fellow.
Dr. Page has been actively engaged administratively in numerous cancer-related roles. He currently serves as an ASCO Delegate to the American
Medical Association House of Delegates. He was the past Chair of ASCO's Clinical Practice Committee.  He was the previous Chair of ASCO's State Affiliates Council and is currently the Texas Representative. He previously served on ASCO's Nominating Committee as the community oncology representative and was on ASCO's Government Relations Committee. Dr. Page serves on numerous working groups involving Payment Reform, Clinical Pathways, Biosimilars, Clinician Well-being, Telehealth, Practice Health, 340B, Site Neutrality, Provider/Payer relationships, CAC, Drug Pricing and Shortages, PBMs, and the Conquer Cancer Foundation Grant Review
Committee.
In 2018, Dr. Page was given the ASCO "Advocate of the Year" Award. In 2019, he achieved the prestigious Fellow of ASCO (FASCO) designation for many years of dedicated volunteer contributions to ASCO. Dr. Page was an inaugural mentor to ASCO's new Healthcare Policy Fellowship program and has contributed to the Leadership Development Program. He has supervised and contributed to policy development activities over the last few years, resulting in numerous publications and policy changes.
He is the Past President and current Treasurer of the Texas Society of Clinical Oncology and serves on the Legislative, Education, and Membership Committees. Dr. Page is politically active both in Texas and nationally working on cancer-related legislative issues. Dr. Page has served as a Consultant to the Texas Medical Association Cancer Committee, and the Texas Osteopathic Medical Association representative on the TMA Physician Oncology Education Program.
Dr. Page is strongly engaged in leadership roles within OneOncology, a national partnership of community oncology practices united in the mission of improving community oncology care. He serves on the OneCouncil physician board, OneR Research committee, Precision Oncology Committee, Pharmacy, and Therapeutics Committee, Quality Committee, and Education Committee.  Dr. Page has been instrumental in the development of a national oncology "Supergroup", Quality Cancer Care Alliance (QCCA) where he served on the board, executive committee, and chaired the membership committee. Dr. Page is a member of the Elsevier Via Oncology Pathways and serves on the Lung cancer and Melanoma Advisory Panels.  He was a member of the Weatherford Regional Medical Center Board of Directors for 7 years and is the Immediate past Chief-of-Staff and serves on several committees, including the Graduate Medical Education Committee for the Internal Medicine residency program. He previously served on the Tarrant County American Cancer Society Board. For 10 years Dr. Page served on the Fort Worth Adolescent Young Adult Cancer Task Force and Board. He also serves on the Board of the Careity Foundation.  As Director of Research, Dr. Page remains at the forefront of new drug development and anticancer therapies which enable patients to get novel cancer treatments closer to home. He has been the Principle Investigator of over 200 oncology clinical trials resulting in a number of scientific publications.
He has a special interest in improving chemotherapy drug delivery resulting in better treatment responses and less toxicities and has done collaborative research at UNTHSC.  Dr. Page has many publications and textbook chapters related to a wide variety of cancer-related subjects and basic science research which he has presented both nationally and internationally.   At the University of North Texas Health Science Center, Dr. Page serves as an Adjunct Associate Professor in the Departments of Medicine and Biomedical Sciences where he actively participates in teaching and mentoring both the basic sciences and clinical medicine, and has received many academic honors and awards.
Dr. Page was honored with the UNTHSC President's Distinguished Alumni Award in 2020. Dr. Page also received the Distinguished Alumnus Award from the UNTHSC Graduate School of Biomedical Sciences, awarded in 2004. He was also honored with the Distinguished Alumnus Citation of Merit Award from Southwestern University in 2006. He was also named as the 2010 Distinguished Alumnus at Grand Prairie High School.
Dr. Page is a "Texas Super Doctor" by Texas Monthly Magazine. He was recently named to the "Texas Super Doctor Hall of Fame" and "LegacyMember" in recognition of being named a "Super Doctor" by Texas Monthly magazine for every year since the program's inception (18 years). For several years has been repeatedly named as a "Top Doctor" by Fort Worth Magazine, Parker County Today Magazine, and more recently 360 West Magazine. He was named a "Healthcare Hero" by the Fort Worth Business Press.  He has been married to Dr. Sheila Page for 33 years. They have 5 children and live in Aledo, Texas. Dr. Page is a member of St. Paul Lutheran Church and has been engaged in several roles including prior work with the Sudanese Refugee Ministry and starting a new mission church in Aledo. Dr. Page was on the President's Council at Southwestern University, was previously the Class of 1984 Class Agent for many years, and was on the Advisory Panel for the Science Center. Dr. Page enjoys water sports, skiing, and fishing with his
kids.
Education
Fellowship
Combined oncology and hematology, University of Texas M. D. Anderson Cancer Center
Residency
Internal Medicine, University of North Texas Health Science Center
Doctorate Degree
Doctor of Philosophy in Pharmacology, University of North Texas Health Science Center
Medical School
Doctor of Osteopathic Medicine, University of North Texas Health Science Center
Master's Degree
Master of Physiology, Baylor University Graduate School
Bachelor's Degree
Bachelor of Science in Chemistry & Biology, Southwestern University
Certifications
Board Certified in Medical Oncology, American Board of Internal Medicine Board Certified in Hematology Graduate Certificate in Healthcare Leadership and Management, the University of Texas at Dallas Jendal School of Management
Cancer Treatment Focus
Cancer treatment, Medical Oncology, Research, Clinical Trials, & Hematology
Office Location
Weatherford, Texas