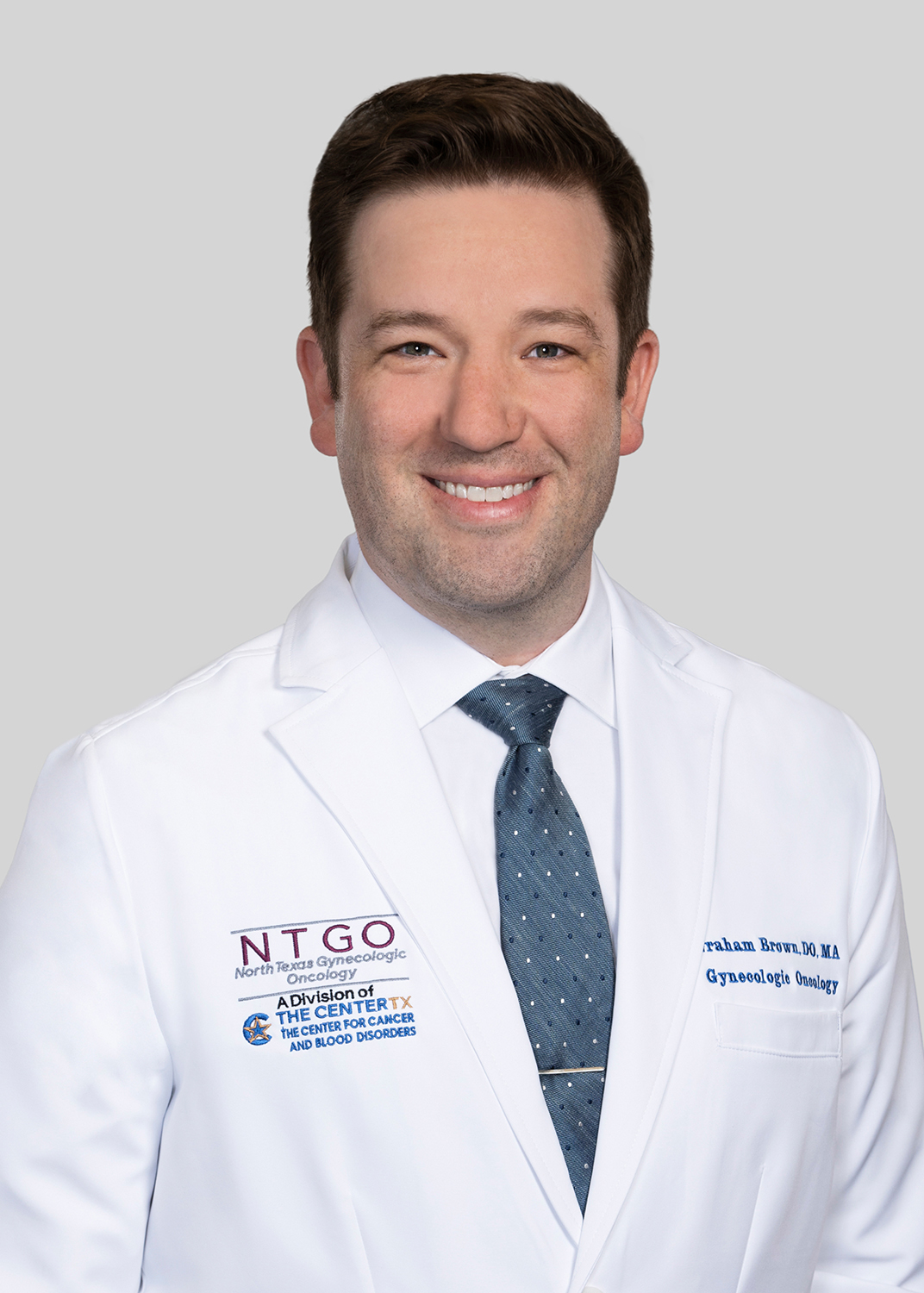 Graham Brown, DO, MA
Dallas, Plano
Graham Brown, DO, MA is a gynecologic oncologist, specializing in the surgical and medical care of women with uterine, ovarian, cervical, and other gynecologic cancers. Dr. Brown utilizes the most advanced and up-to-date surgical and medical approaches in his patient care. More
importantly, Dr. Brown strives for compassionate and thoughtful care with the utmost goal of providing comfort and encouragement to patients in a time of uncertainty and often fear.
Born in the mountains of central Pennsylvania, Dr. Brown was raised in West Texas. He completed his undergraduate degree in microbiology and biochemistry at Texas Tech University in Lubbock, Texas. During this time, he also completed an undergraduate research fellowship at MD Anderson Cancer Center. Dr. Brown completed graduate school in Boston, Massachusetts at Boston University Medical Center where he studied vascular biology and tumor cell crosstalk in the world-renowned lab of Dr. Judah Folkman. Dr. Brown received his medical degree from
the University of North Texas Health Science Center in Fort Worth, Texas. Following an internship in internal medicine, he completed his residency in obstetrics and gynecology at JPS Health System in Fort Worth and a gynecologic oncology fellowship at Wellspan Health/York
Hospital in York, Pennsylvania.
In his free time, Dr. Brown enjoys spending time with his wife and son, as well as traveling and
music and is an avid woodworker.
Education
Gynecologic Oncology Fellowship
Wellspan Health/York Hospital – York, Pennsylvania
Residency – OB/GYN 
JPS Health System – Ft. Worth, Texas
Medical Degree
University of North Texas Health Science Center – Ft. Worth, Texas
Bachelor of Science Degree in Microbiology and Biochemistry
Texas Tech University – Lubbock, Texas
Office Location
Dallas, Plano
Contact Us
Ask a question or book an appointment below.
For emergencies call 911 or visit your nearest hospital.