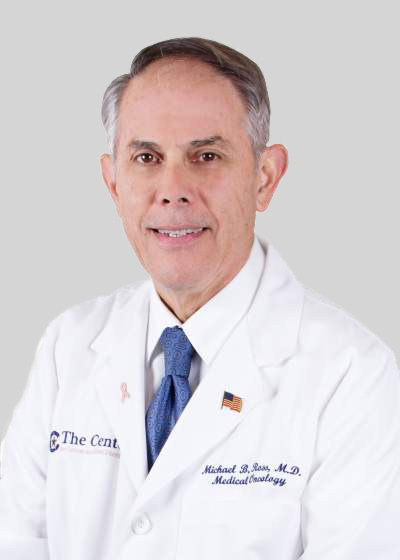 Michael Ross, MD
Burleson
"Throughout my years of practice I have had a continuing commitment to my patients and to myself to always remember that I am treating a person with cancer and not just a cancer."
Michael B. Ross, M. D., was born in Bay Shore, New York, and grew up in Ohio. He attended Western Reserve University in Cleveland, majoring in biology. In 1971, he received his medical degree from the Medical College of Virginia and was elected to the Alpha Omega Alpha Honor Medical Society.
His postgraduate training in internal medicine was started at the Medical College of Virginia Hospital, but was interrupted by the Vietnam War. During active duty with the U. S. Navy, he completed his internal medicine training at the Naval Regional Medical Center in Portsmouth, Virginia. His Medical Oncology fellowship was completed at the M. D. Anderson Hospital and Tumor Institute, Houston, Texas. Dr. Ross is certified by the American Board of Internal Medicine and by the American Board of Medical Specialties in Medical Oncology.
Prior to moving to Fort Worth in 1984, Dr. Ross introduced modern oncology treatment in the Rio Grande Valley of south Texas, where he was the consulting oncologist in a medical group practice. Dr. Ross was honored for his teaching activities and numerous medical publications by election to the fellowship in the American College of Physicians. Dr. Ross is a member of the American Society of Clinical Oncology, M. D. Anderson Associates, and is an NCI designated clinical investigator.
Dr. Ross served as an assistant clinical internist at the M. D. Anderson Hospital and Tumor Institute. Dr. Ross has held many positions of responsibility or leadership in community organization, including presidency of the Fort Worth chapter of the American Cancer Society, president of Congregation Beth-El, and president of the Jewish Federation of Fort Worth and Tarrant County. Dr. Ross has been elected to the "Best Doctors In America" by his peers and was selected multiple times for inclusion in the Texas Super Doctors list, seen in Texas Monthly.
Dr. Ross has a special interest in Medical Ethics, was the long-term chair of the Ethics Committee at one local hospital, and lectures widely on the topic. He has had a life-long fascination with model trains. Dr. Ross met his wife, the former Beverly Whatley of Houston, Texas, while both served in the Navy. They have three children.
Education
Fellowship
Medical Oncology, M. D. Anderson Hospital and Tumor Institute
Residency
Naval Regional Medical Center
Medical School
Medical College of Virginia; Naval Regional Medical Center
Bachelor's Degree
Bachelor of Science in Biology, Western Reserve University
Certifications
Board Certified in Medical Oncology, American Board of Internal Medicine Board Certified in Medical Oncology, American Board of Medical Specialties Board Certified in Hematology
Cancer Treatment Focus
Cancer treatment, Medical Oncology, & Hematology