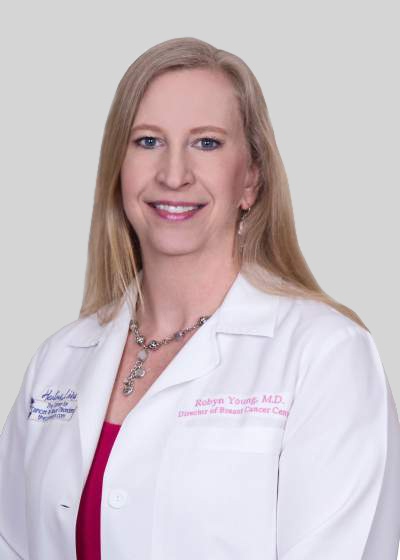 Robyn R. Young, MD
Fort Worth - Central Campus, Weatherford
"Breast cancer treatment is my passion and my calling. Woman-to-woman I bring you that special understanding about the effects of this disease. The part that goes beyond the physical aspects—the questions about your femininity, your appearance, your doubts, and your fears. I've been on the other side of the cancer table, having lost my father to lung cancer. There were times I didn't feel like I was getting the whole story. I welcome your questions and concerns. We'll walk through breast cancer together. You are not in this alone."
Robyn Young, MD focuses entirely on breast cancer treatment and serves as the principal investigator for numerous breast clinical trials. With many years of experience, she offers her patients the most up-to-date and aggressive options for fighting this disease including chemotherapy, radiation therapy, immunotherapy, hormonal therapy, and biological therapy. Dr. Young believes in working closely with breast cancer surgeons, plastic surgeons, radiation oncologists, and other medical professionals to provide a team approach, assuring each patient an opportunity for a cure and the highest quality of life.
In addition to treating patients diagnosed with breast cancer, Dr. Young strongly believes in prevention of this disease.  She offers community talks on the many ways to actively work to protect yourself from developing breast cancer. If you would like to schedule a presentation for your organization, call Laura at 817-999-2530.
Dr. Young is assisted by a breast cancer navigator to help guide patients and family members to cancer resources.
In addition to her years of experience at The Center for Cancer and Blood Disorders, Dr. Young served as medical director of the Breast Cancer Treatment Clinic at Scott & White Clinic and Hospital in Temple, Texas, for nearly 8 years. She earned her undergraduate degree from Stephen F. Austin State University and her medical degree from the University of Texas Health Science Center at Houston. Dr. Young completed her internship, residency, and fellowship (oncology and hematology) at State University of New York Health Science Center (SUNY) in Syracuse, New York.
Dr. Young has been honored as a Top Doctor by Fort Worth, Texas magazine and was selected for inclusion in the 2011 Texas Super Doctors list, as seen in Texas Monthly. The Fort Worth Business Press named her a Great Woman of Texas and a Health Care Hero. She was named a Hometown Hero in Parker County by the Careity Foundation in 2013.
Dr. Young dedicates many hours to raising breast cancer awareness with countless speaking engagements to corporate, community, and charity groups. She, her husband, two children, and their many dogs and cats live in Aledo.
Education
Fellowship
State University of New York Health Science Center
Residency
State University of New York Health Science Center
Medical School
Doctor of Medicine, University of Texas Health Science Center
Bachelor's Degree
Bachelor of Science, Stephen F. Austin University
Certifications
Board Certified in Medical Oncology, American Board of Internal Medicine
Cancer Treatment Focus
Breast cancer treatment, breast cancer research, breast cancer clinical trials
Office Location
Fort Worth - Central Campus, Weatherford