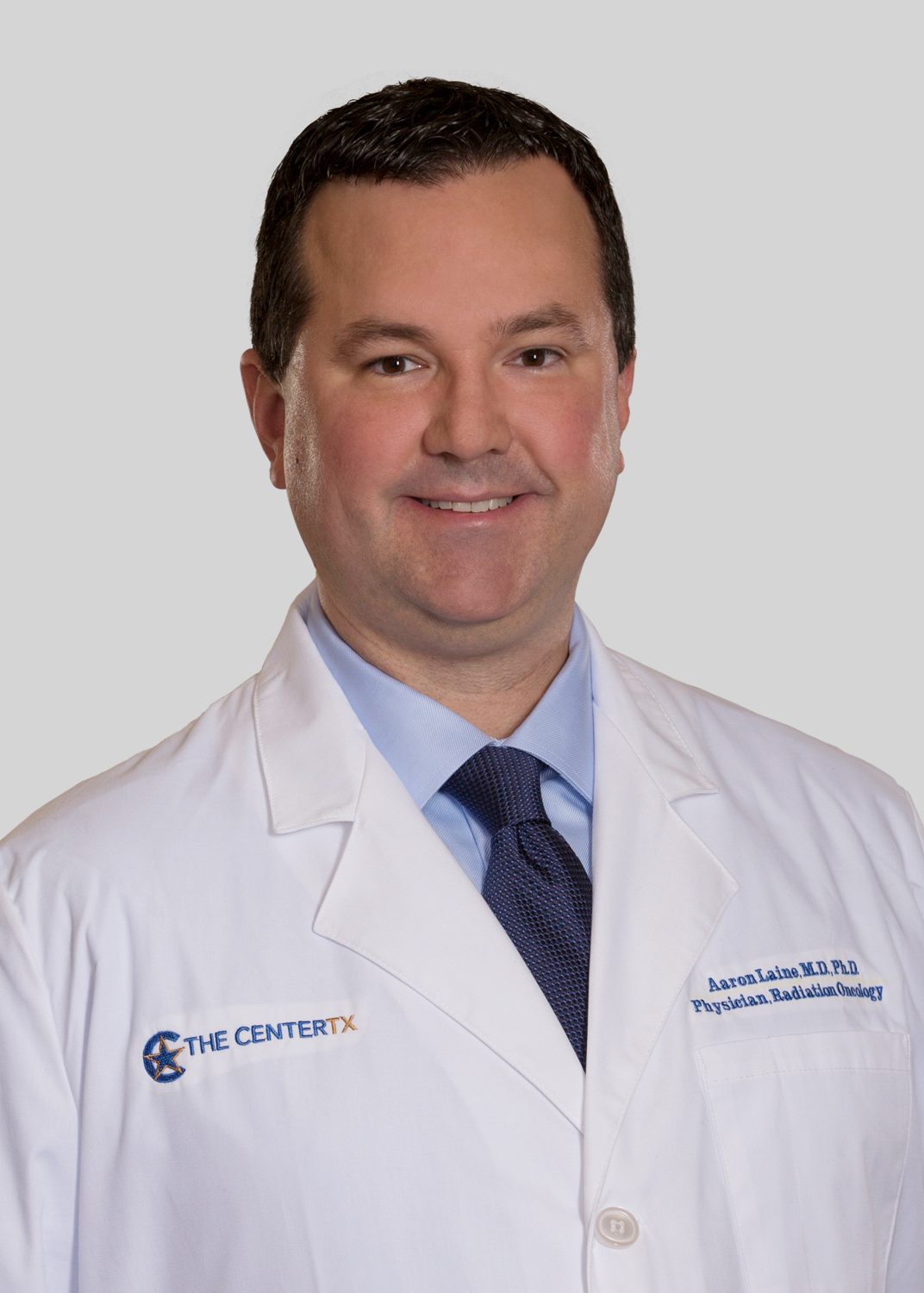 Aaron Laine, MD, PhD
Weatherford, Fort Worth - Central Campus
"I had always intended to pursue a career in oncology due to experiences I had helping family members dealing with cancer.  While in medical school, I learned more about the field of Radiation Oncology.  The need to select the optimal treatments for each patient and the technical expertise and critical thinking required to evaluate different treatment approaches spurred my interest.  For me, Radiation Oncology was a perfect mix of high-tech, patient care and being able to make an immediate difference in people's lives.  I find it very rewarding helping patients to better understand all of the different options and approaches available to treat their specific cancer.  Taking time to review what has been done, what we can do, and what to expect from their treatments.  I really strive to help patients navigate these options and allow them to feel comfortable with their decision"
Aaron Laine, MD, PhD is dedicated to providing comprehensive radiation oncology treatment to his patients. He is interested in genitourinary malignancies, particularly prostate and renal cell cancer.  Prostate cancer affects the majority of men at some point during their life.  He has had personal experience with several members of his family being diagnosed with prostate cancer.  Dr. Laine is trained in Stereotactic Body Radiation Therapy, Cyberknife, Gamma Knife, True Beam, Vital Beam, Triology, Versa, Tomo Therapy, Vero, HDR, Prostate LDR, Space OAR, Pinnacle, Multiplan, Eclipse, Aria, Velocity, and Vision RT for Deep Inspiratory Breath Hold, Heavy–ion Radiotherapy, and Carbon-ion Radiotherapy.  In his whole-person approach, Dr. Laine takes time with each patient and works closely with a team of medical oncologists, surgeons, nurses, dieticians, patient navigators, and other support staff to ensure that each individual receives a customized treatment plan. He will utilize the latest anti-cancer agents, including chemotherapies, immunotherapy, targeted therapy and clinical trials which allows him to create up-to-date treatment plans that focus on each patient's personalized needs and nurture their recovery.
Dr. Laine earned his Bachelor's Degree of Science in Chemistry at Arizona State University in Tempe, Arizona.  He earned his MD and was awarded his PhD in Biomedical Science at Mount Sinai School of Medicine, New York, New York.  He completed his Internal Medicine Internship at Mount Sinai Hospital, New York, NY.  Dr. Laine had a Post-Doctoral Fellowship at the prestigious Tokyo Metropolitan Institute for Medical Science, Tokyo, Japan studying protein regulation.  He received his medical training in Radiation Oncology at UT Southwestern Medical Center, Dallas, TX, where he was Chief Resident.
Dr. Laine has written numerous articles, publications, abstracts on cancer biology and cancer cachexia.  He has given several presentations on cancer cachexia and its impact on cancer patients.  Dr. Laine has been involved as Co-Principle in Research Protocols for lung cancer, prostate cancer, renal cancer, and cancer cachexia.  He is a member of the Radiological Society of North America, American Brachytherapy Society, American Society of Clinical Oncology, American Society of Therapeutic Radiation Oncology, and American College of Radiation Oncology, Alpha Omega Alpha, and American Association of Cancer Research.  He was awarded the Alpha Omega Alpha Award, Japan Society for the Promotion of Science Post-Doctoral Fellowship Award, Research Trail Award, and NCI Pre-doctoral Training Grant Award.  He graduated Summa Cum Laude with higher division honors and earned several scholarships.
Dr. Laine is happy to be in North Texas, and looks forward to helping provide its community members with exceptional care. Both he and his wife enjoy swimming, playing soccer, dancing, listening to music, and watching children's shows with their toddler son.  Dr. Laine and his wife enjoy dining and traveling to new places when they can. Dr. Laine personally enjoys movies and working with electronics.
Education
Medical Training in Radiation Oncology
UT Southwestern Medical Center
Post-Doctoral Fellowship
Tokyo Metropolitan Institute for Medical Science
Internal Medicine Internship
Mount Sinai Hospital
Medical & Doctoral Degrees
MD & PhD in Biomedical Science, Mount Sinai School of Medicine
Bachelor's of Science Degree in Chemistry
Arizona State University
Certifications
Board Certified in Radiation Oncology by the American Board of Radiology
Cancer Treatment Focus
Cancer Treatment and Radiation Oncology
Office Location
Weatherford, Fort Worth - Central Campus