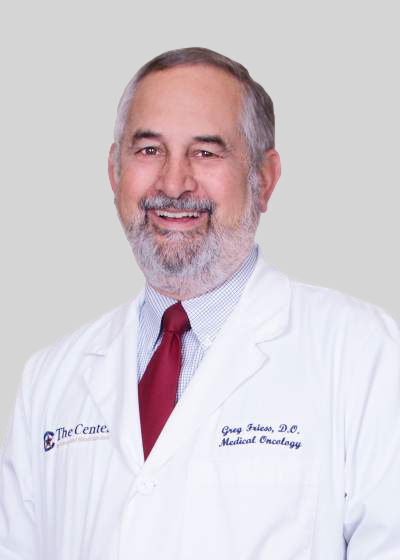 Gregory Friess, DO
Mineral Wells
"I believe there is a dream in the heart of each oncologist to give every cancer patient the best life possible, whether fifty days or fifty years. In the brain of a good oncologist is the knowledge and means to make it happen."
Greg Friess, DO, brings his patients more than three decades of experience in fighting cancer. He is a founding partner of The Center for Cancer and Blood Disorders. He has seen tremendous progress in cancer treatment and firmly believes in aggressively using every weapon available including chemotherapy, radiation therapy, immunotherapy, hormonal therapy, and biological therapy. His goal is a team approach, to provide every patient with an opportunity for a cure and the highest quality of life.
Dr. Friess completed his undergraduate degree at the University of Texas at Arlington. He received his medical degree from the University of North Texas Health Science Center in Fort Worth (formerly Fort Worth College of Osteopathic Medicine). Dr. Friess served as a Major in the United States Army Medical Corps. During this time, he completed an internship and residency at the D.D. Eisenhower Army Medical Center at Fort Gordon, Georgia. He completed his fellowship in medical oncology at Brooke Army Medical Center in San Antonio, Texas.
Always interested in working with medical students, Dr. Friess served as chief of the outpatient hematology/oncology clinics at Brooke Army Medical Center. At that facility, he was elected most outstanding teacher by his students. Prior to beginning private practice, Dr. Friess was an assistant professor of oncology at the Texas College of Osteopathic Medicine and was named outstanding teacher for several consecutive years. He is currently an adjunct faculty member at Kirksville College of Osteopathic Medicine in Kirksville, Missouri, and at the School of Osteopathic Medicine Arizona in Mesa, Arizona.
He was honored for his many publications with election to fellowship status in the American College of Physicians. In addition, he has repeatedly been named a Top Doctor by Fort Worth, Texas magazine and was selected for inclusion in the 2011 Texas Super Doctors list, as seen in Texas Monthly.
Dr. Friess and his wife live in Arlington.
Education
Bachelor's Degree
Bachelor of Science, University of Texas at Arlington
Medical School
Doctor of Osteopathic Medicine, University of North Texas Health Science Center
Residency
MD Eisenhower Army Medical Center
Fellowship
Medical oncology, Brooke Army Medical Center
Certifications
Board Certified in Medical Oncology, American Board of Internal Medicine
Cancer Treatment Focus
Cancer treatment, cancer research, cancer clinical trials
Office Location
Mineral Wells